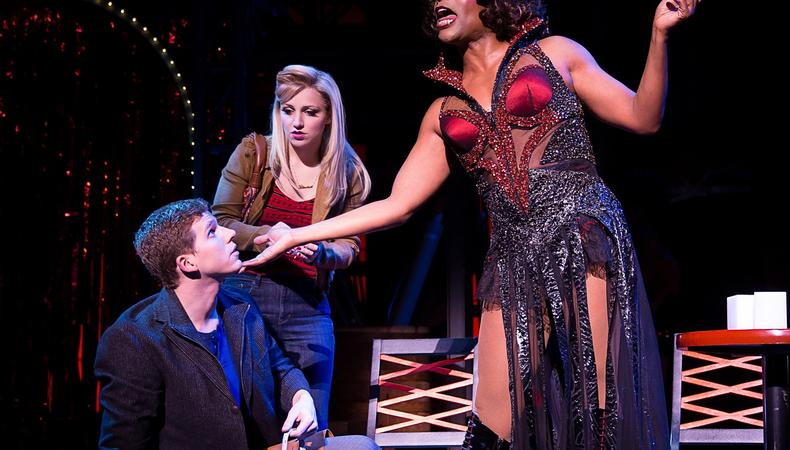 There's no use putting up a fight with "Kinky Boots." The Broadway adaptation of the hit 2005 Miramax film about a struggling shoe factory in the north of England and the drag queens who help to save it is the feel-good musical of the season. Yes, Harvey Fierstein's funny book is a bit too bald, Cyndi Lauper's catchy songs are more lyrically repetitive than they should be, and director-choreographer Jerry Mitchell slights character and story in favor of splashy production numbers. Still, boasting a powerhouse performance from Billy Porter as Lola, the drag queen who's also a trained boxer, the damn thing works.
Just as meek Charlie Price relocates to London with his ambitious fiancée, Nicola, to work in real-estate management, Charlie's shoes-obsessed father, unhappy that his son chose not to follow him into the family business, drops dead. Charlie returns to Northampton to discover that Dad was keeping the business open by making shoes for nonexistent orders. Charlie's ready to throw in the towel, but spunky employee Lauren challenges him to think out of the box and find a niche market. A chance London encounter with Lola—Charlie got conked on the noggin trying to protect her from some hooligans and ended up backstage in her dressing room—inspires him. Lola complained about being unable to find fabulous thigh-high boots that could support a man's weight. Soon she is in the north designing the titular footwear, and the factory is busy turning out prototypes for display at a show in Milan. Of course, Lola's flamboyance roils the backwaters of Northampton, and everything is put at risk before the inevitable happy ending.
Porter's rip-roaring, strongly sung performance is always rooted in emotional truth, and he effectively contrasts Lola with Simon, the shy, uncomfortable young man who is Lola out of drag. Just as good in a quieter way is Stark Sands, as Charlie, whose lack of self-esteem is the principal impediment to his wish to feel passionate about something. Sands combines rigorously honest acting with personal charm and an attractive, flexible singing voice, and he is touching in Charlie's Act 2 meltdown of self-loathing, "The Soul of a Man" (though I could have done without the backup vocals from nowhere). Porter and Sands excel on their one duet, "I'm Not My Father's Son," shared by Simon and Charlie in a bonding moment.
Annaleigh Ashford is a tart, sassy Lauren, and she brings the house down with one of Lauper's best songs, "The History of Wrong Guys," a comic tour de force that also beautifully establishes character. Celina Carvajal does the best she can with the underwritten Nicola; Marcus Neville amuses as George, the very proper factory manager; and Daniel Stewart Sherman is appropriately loutish as third-generation employee Don, who has it in for Lola.
Costumer Gregg Barnes has lots of fun with those boots, David Rockwell did the handsome sets, and Kenneth Posner's lights can be flashy or subdued as required. "Kinky Boots" is likely to be ensconced at the Al Hirschfeld Theatre for some time.
Presented by Daryl Roth, Hal Luftig, James L. Nederlander, Terry Allen Kramer, Independent Presenters Network, CJ E&M, Jayne Baron Sherman, Just for Laughs Theatricals/Judith Ann Abrams, Yasuhiro Kawana, Jane Bergère, Allan S. Gordon and Adam S. Gordon, Ken Davenport, Hunter Arnold, Lucy and Phil Suarez, Bryan Bantry, Ron Fierstein and Dorsey Regal, Jim Kierstead/Gregory Rae, BB Group/Christina Papgjika, Michael DeSantis/Patrick Baugh, Brian Smith/Tom and Connie Walsh, Warren Trepp, and Jujamcyn Theaters at the Al Hirschfeld Theatre, 302 W. 45th St., NYC. Opened April 4 for an open run. (212) 239-6200, (800) 447-7400, or www.telecharge.com. Casting by Telsey + Company/Justin Huff.
Critic's Score: B