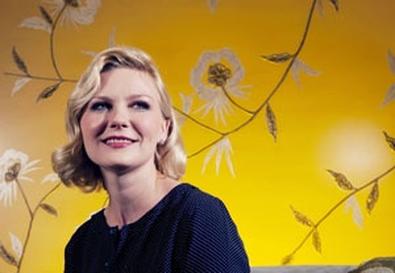 At this year's Cannes Film Festival, the paparazzi couldn't get enough of
Lars von Trier's meltdown
after he made a joke about Nazis and Hitler to the press. For those there for the films, however, the big story was Kirsten Dunst's performance in von Trier's "
Melancholia
," which garnered her a well-deserved best actress win.
Having starred in "Interview with the Vampire: The Vampire Chronicles," "Little Women," and "Jumanji" as a child, Dunst is one of the few successful young actors who seamlessly transitioned into a successful adult actor. She has worked steadily for years in comedies such as "Bring It On," "Dick," and "Drop Dead Gorgeous" the big-budget "Spider-Man" trilogy; and dramas such as "The Virgin Suicides," "Crazy/Beautiful," "Eternal Sunshine of the Spotless Mind," "Elizabethtown," and "Marie Antoinette." Dunst has no plans to stop, either. "I'd like to continue working, always," she says. "This is what I love to do."
Back Stage: You started acting at a really young age. What originally got you into it?Kirsten Dunst:
My mother and I would be in our grocery store in New Jersey, and she would have people come up to her often and say, "Your kid's so animated. She should try out for commercials or modeling." My mom eventually was like, "Okay, we'll try it." She was a stay-at-home mom, and we were only an hour outside of [New York City], so she and my dad were like, "Maybe we'll put some money away for college." Basically, that's how it started. I booked the first print job I ever went out on. Then I booked my first commercial I went out for, which was for Kix cereal, and it was like a snowball effect. I had fun doing it, and also it was fun to go into the city. My mom always made it an adventure. It became part of my life and something I did. I think it was because I was very natural and a lot of the kids had makeup on and all that stuff. I did a lot of print and commercials when I was younger. Eventually my agent at the time said, "You guys need to go to L.A. for pilot season." Before that I [was cast in] "[The] Bonfire of the Vanities." That was the first time I came to L.A. I did a small part in that film with Tom Hanks; I played his daughter. We did the thing most people in New York eventually do if they're successful in commercial work. The next step is to go to L.A. and do pilot season. I was one of those kids.
Back Stage: Do you have advice for parents of young performers?Dunst:
I think kids have to really enjoy it. I had fun acting. When I was little, I put on plays for my family at Sunday dinner, and I would direct them and have all my cousins, my brother, and my best friends in it. I was a very imaginative and theatrical child and wasn't afraid of being in front of a camera. It was like make-believe to me. The hard thing is, a lot of kids just don't want to do it. I really had fun. And my mom always made school a priority. Even when I started working, I always went to normal school. If I was on a film set, yes, I'd have a tutor, but then I'd go right back to the kids I was in school with and [be] on their same syllabus of whatever was going on. None of my friends were in acting either, which was a big thing too. It was just something I did. My girlfriends were in cheerleading; I would act. It never felt isolating. I think once you pull your kids out of school and do home schooling, it makes it more of a job rather than something you just do. I also had an acting coach when I was younger, because having that relationship with your child, where you're coaching them, is a little weird. A lot of moms give their kids line reads. My mom wasn't put in that position because I always had an acting teacher helping with the feelings rather than how to say something. That was really, I think, important as well—not having that relationship with your child where you're their acting teacher.
Back Stage: Who was your acting coach?Dunst:
I worked with
John Homa
for a very long time. He also coached me on "Interview With the Vampire." I started when I was like 9 or 10. We'd play games in the beginning where it's about trusting each other and being aware of what the other person's doing and building camaraderie, and then we'd work on a scene. It was fun. The vibe was very non-competitive and felt very much like—some kids went to gymnastics after school, and I'd go once a week to these acting classes. John and I became very close—he was almost like a father figure in a way, because I worked with him constantly on things and emotional things, and he always made it feel very safe for me.

Back Stage: Do you remember auditioning for "Interview With the Vampire?"Dunst:
There were so many different audition processes—three or four auditions and then screen tests. John was with me in the process, and he made it so I wasn't afraid to get angry. He'd do exercises with me where I'd slam a door a bunch of times and things like that—because when you're a kid you're afraid to do things your parents would reprimand you for, like slamming a door. He made a safe environment and allowed me to bring up things that would invoke feelings in me that were uncomfortable but also broke through and allowed me to be emotional and not be afraid of it. Also, when things in "Interview With the Vampire" invoked sexuality, we never talked about it that way. He would say, "Think about this scene as if you stole your brother's favorite toy, and he's asking you where it is and you know exactly where it is, but you hid it and you're not going to tell him." It gives you this precocious energy that can be read in a different way. It was always about making me feel comfortable and not expecting things that were out of my understanding.
Back Stage: When did you decide you wanted acting to be your career?Dunst:
It was always what I did, what I was used to doing. Now there are so many different facets of the industry I really enjoy. I love to produce, and I've directed two short films. Now that I'm at a position where I get to choose what I want to do and wait and not have to work on movie after movie, I can take breaks so I can really figure out what I want to portray, what would be exciting and challenging for me in my life, because I just don't want to act to act anymore—it really has to mean something to me personally. Or the director has to inspire me. It's always about the filmmakers. I would always rather do a mediocre script with a great filmmaker than a great script with a mediocre filmmaker. Those directors don't always have a role for you, so there's a lot of waiting now, which I don't mind.
Back Stage: Do you still study acting with someone? Dunst:
I do work with someone still. But it's private to me. I think for everyone it's good to have your own personal work on a character and a film before you even start rehearsing, to have an inner life. I've always been someone that has, like, "character therapy" between me and whoever I'm playing. I'm the type of actor where when I get on set, I throw it all away, and then it becomes about being in the moment with whoever you're acting with and that inner life. You've worked on it and it's there, but then it's about being there for whatever happens in the scene. I'm not a very "this is planned out" person when I get to set. "This is how I'm going to do it"—I'm never like that. The energy with whoever you're working with and also of the place you're in, the set, or wherever it is. Your environment feeds what you're doing as well. You have to be open to whatever happens and not be afraid. That was the biggest thing from being a young adult actress to now being in films. There's a period where you have to break through this fear. It's okay to do a terrible take. Try something different. Or if you start laughing, or wherever it goes, it doesn't really matter, because by the end of the scene it could come to something really special. If you had this way in your head of thinking about it, it would have fell flat. That's usually the way I work. Also, I'm not a big fan of rehearsal, for the most part. I think when you find something for the first time on film, you get something special.

Back Stage: You've worked with great directors, including Sofia Coppola twice ["The Virgin Suicides" and "Marie Antoinette"]. What directorial style do you like to work with? Dunst:
I like [directors] who are very emotionally intuitive and understand what to say and how to hold back and just say enough. I think when they're too precise about the way they want something, they're never going to be happy. My favorite kind of directors know how to put a chemistry of people together where you know it's going to work. I had such a good experience on "Melancholia." I loved all those actors so much. It was a real team. The environment which Lars [von Trier] sets up, which actually Sofia [Coppola] does too, is they set up a very natural energy that just lends itself to the scene and the environment they create as people and the tone they set for the film. I really enjoy when they feel it so deeply inside of them it permeates to set. I would love to work with Quentin Tarantino—he's my number one. My ultimate. I would love to work with Paul Thomas Anderson, Alexander Payne—Pedro Almodóvar wouldn't be too shabby. There are so many good directors, but those are some of my favorites.
Back Stage: How did "Melancholia" come to you? Is it true you got the job over Skype?Dunst:
Yes, it was. It was actually one of the simplest processes of getting a job I've ever had in my entire life. I got an email one day: "Lars is obsessed with you for this part. Read this script. You're Skyping with him tomorrow." It came so out of the blue. I was ecstatic about it. There aren't many great auteurs writing films and roles for women except for him and Pedro Almodóvar. Then I talked to him the next day. We barely talked about the script. Barely. We just talked about Charlotte Rampling [who plays Dunst's mother in "Melancholia"] and how much we loved her. I found out later I was recommended to him by two director friends of his—Paul Thomas Anderson and Susanne Bier. It was the most wonderful process. He was just like, "I'd love you to be in my movie." It was so nothing. The way I like it to be—simple, direct, to the point. It was like, "I know I want this girl; I'm hiring her." After that I jumped around like a teenager. I was so excited to have the opportunity to work with him. He doesn't make many movies, and no one writes roles the way he does for women.
Back Stage: How did you approach playing a depressed person so it wouldn't look boring on film? Do you have advice for actors who have to play depressed?Dunst:
Depression's not something that's easy to portray on film, period. I knew with Lars it would be something poetic and interesting to watch, and not boring, because you're working with Lars von Trier. It depends on the film and what context and how the story is written. I definitely think there has to be an energy. A depressed person can't play a depressed person. Even though you're playing someone who's depressed and who doesn't want to do anything, you have to have an underlying energy to you.

Back Stage: What was your biggest challenge playing this role?Dunst:
It was emotionally really draining every day. It's a lot to put yourself in that place and be so vulnerable and so open. You have to forget anyone will ever see it. You're performing, and it will never be seen. I play such a vulnerable person, and even though I bring them together in the end, I'm cruel to my family, distant, and almost alien-like. There were a lot of things I really felt like I stepped out of a part of myself. I lived this movie more than I lived other films.
Back Stage: If you could teach a class in acting, what would you teach or advise your students?Dunst:
I'm an actor who has been very intuitive all my life. I feel like that's a hard thing to teach. When you block someone's intuition in the way film sets do sometimes because you have to do take after take, you can get really dry. Sometimes I create different fantasies that I'll write down and remind myself so that I won't get dry. Also, I think about acting for something other than the set I'm on or the director I'm working with or the actors I'm working with. I truly try and find something in myself or in—I don't want to get too dorky about it—but almost like a more whimsical expression. Because movies are meant to move people, and so if you think about that and you're working toward something higher than whatever's happening on set or whatever drama or anything, I think it's a nice way of pulling yourself up to a level where you can experience the scene you're doing or the film you're on in a way that elevates it. And never do anything you're not 100 percent on—100 percent meaning you truly believe in it. You won't do your best work if you're not engaged completely and excited about what you're filming. Finally, find what you're good at. What you're best at. Don't try and change yourself to fit some kind of mold you think will bring greater success, because what makes actors unique is them themselves.
OUTTAKES
- When auditioning, Dunst always dresses the part. For "Elizabethtown," she auditioned for Cameron Crowe in a navy skirt, blazer, and white button-down so she'd look like a flight attendant.
- On directing: "I want to direct again. Maybe another short film or a music video would be really fun for me. I think it's good to practice as much as you can. Maybe in the next three to four years. I'm also interested in producing."
- Upcoming film releases include the dark comedy "Bachelorette" with Lizzy Caplan, Rebel Wilson, and Adam Scott; a small part in "On the Road," based on the Jack Kerouac novel; and "Upside Down" with Jim Sturgess. "It has beautiful animation and special effects—nothing like I've ever seen," Dunst says. "It's about these two universes, but gravity keeps them to themselves. It's a Romeo and Juliet story for everyone."
- Has not seen "Bring It On: The Musical" but wants to.