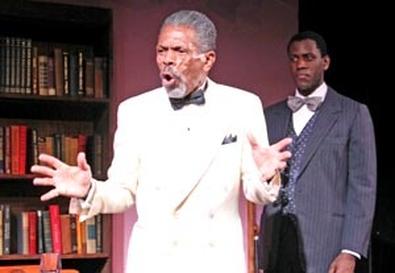 Family drama is played for laughs in Charles Smith's "Knock Me a Kiss." A romanticized retelling of the marriage between Yolande Dubois, the daughter of civil rights activist W.E.B. DuBois, and poet Countee Cullen during the Harlem Renaissance, the play traffics in superficial comedy at the expense of complex characters.
DuBois, concerned more with pedigree than love, orchestrates the match for his daughter unaware that Cullen is gay. Yolande, who has an infantile notion of romance, rejects a proposal from jazz-band conductor Jimmy Lunceford, whom she loves, in part to cement her position in society. Of course, the truth inevitably comes out.
"Kiss" is directed by Chuck Smith, who also directed the original 2000 production, in Chicago. Though the play ranges from funny and crude to dark and heartbreaking, Smith consistently emphasizes the humor. The result is that it never feels like anything is at stake, even though the characters say there is.
Erin Cherry is fine as Yolande, organically transitioning from innocence to maturity. André De Shields brings the necessary presence to DuBois, but he overplays the character, rendering an iconic figure one-dimensional. It's only when the captivating Marie Thomas appears as Dubois' mentally ill wife, Nina, that the show elevates to something more than just comedic domestic struggles. Thomas brings a welcome subtlety to the proceedings. Rounding out the cast are the smoldering Morocco Omari, as Jimmy; Gillian Glasco, memorable as Lenora, a character whose sole purpose is to utter witty one-liners; and the sympathetic Sean Phillips, as Countee Cullen, whose motives for marriage are understandable and should have been further explored.
"Kiss" casts a critical eye on those who adhere to popular opinions and occasionally takes a hard look at the sacrifices that come with revolution. Unfortunately, such messages are buried beneath the misguided though often effective humor. There's a nagging feeling of squandered potential.


Presented by New Federal Theatre and Legacy Creative Arts Company at the Henry Street Settlement's Abrons Art Center/Recital Hall, 466 Grand St., NYC. Nov. 21–Dec. 5. Wed.–Fri., 7:30 p.m.; Sat., 3 and 8 p.m.; Sun., 3 p.m. (No performance Thu., Nov. 25; additional performance Tue., Nov. 30.) (212) 352-3101, (866) 811-4111, www.theatermania.com, or www.newfederaltheatre.org. Casting by Lawrence Evans.