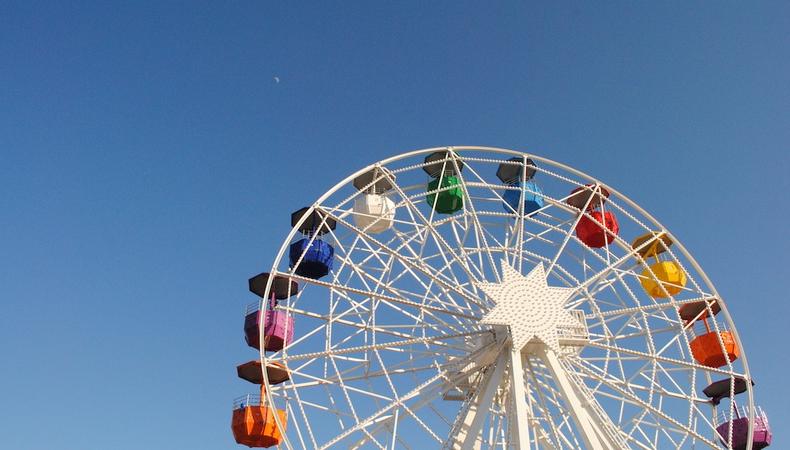 It's May, which means impending theme park season is just around the corner. This week, Backstage is giving you everything you need to know about working as a performer at a theme park, with our guide on the subject. But before you delve deep, we rounded up the lowdown on theme park auditions, specifically, so you can get a jump on the process. Here's what our Backstage Experts can reveal about auditioning for these sought-after gigs.
The process will be multi-tiered.
"We send out a mass email to all theater departments within a certain distance, and especially invite students from the local theater department of Western University. There are usually two rounds of auditions. The first is used to sort out what performers will better fit the roles, then we have a callback. Actors fill out a form listing their previous work or acting experience, then we explain the roles that are available for the summer...After an oral interview, they're given a script to study for about 15 minutes. Each performer then goes in front of the producers of the show and is placed with an experienced actor, usually someone from the previous year, who leads the audition, and performs a segment."—Dinky Gowen, current show producer and resident magician at Beech Bend Park in Kentucky
Being captivating is more important than perfection.
"I think one of the biggest misconceptions about Sesame Place is that if you get a job as a performer, you're just going to be in a parade costume and that's it. [That's] absolutely not the case. As a smaller park, we're not as capable of putting on as large of a technical experience as we may want to. But an actor, especially when you get the right person, helps to keep things magical. I look for a lot of big personalities. I look for people who can have really exaggerated facial expressions and are able to grab the attention of a distracted audience caught in the normal murmur of a park. You can have a lot of people come in who are over thinking and wanting to get their performance done perfectly every single time. That's not necessarily as important as having fun and being engaging, especially in a park like this."—P.J. Schweizer, entertainment and production manager at Sesame Place Park in Pennsylvania
You'll need to demonstrate an ability to engage with varying age groups.
"There's a huge variety of performers. It's a seasonal process, and casting is complex and multi-step. Production and department heads meet at regional SETC [Southeastern Theatre Conference] conventions to determine the direction of new content and develop shows, then we begin casting for the next season. This season we auditioned marching bands who travel around the park performing, and we also held auditions for magicians...Not only do they have to show their technical skills, but they have to convince us that they would be engaging to different kinds of audiences and kids of different ages. We encourage community. It's a shifting process, but what remains consistent is the standard that we hold our performers to. Each year we try to improve on the previous season and provide as much entertainment as we can, so anyone with theater training, or dance training, or any performance skill should look at our casting and audition schedules and absolutely try out."—Michael Hickey, head administrative coordinator at Hersheypark in Hershey, Pennsylvania
Be authentic to who you are as a performer.
"We try to have that 'Disney take' on the audition where everybody feels welcome. Those who have what it is we're looking for easily rise to the surface...A mistake that a lot of people make is that they think I'm looking for them to be exactly like the girl in the film, but with our live entertainment, we have a little more leeway. Each one of our Ariels brings something different to the table, and that's what I'm looking for: I'm looking for the best of you, not you pretending to be something else. The same thing goes for Belle or any of the other Disney-branded roles.
"In one audition, I can hire a Disney character look-alike, a parade performer, someone to portray our new 'Star Wars' characters—we're looking for multiple things in one audition. It's always great if you see that we're looking for a pop tenor [and] you pick something that's in the pop genre, but I think when you get down to individual songs, it doesn't really matter so much. If you're coming in for Ariel, it's probably a good idea not to sing her song because you don't want us to make that comparison right off the bat." —Darla Hayward, casting director for Walt Disney Parks and Resorts main-stage shows
Embrace what makes you unique.
"[In February we start] looking for dancers with backgrounds [in] musical theater and jazz, actors and models to play superheroes on the street, and people great with children. We encourage specialty skills: jugglers, stilt walkers, street drummers, anyone with a special skill they want to show off."—Kaitlyn Turi, public relations supervisor for Six Flags Adventure in New Jersey
The team expects you to capture and display the joy of theme parks.
"The main thing our producers try to do is make sure the audition experience is positive. We realize we're trying to sell ourselves to performers. We want to make sure everybody has a good time. We want them to relax and feel comfortable and showcase what they do best, which is hopefully to entertain. Our big thing at Dollywood is to create memories worth repeating for our guests. We try to tell stories through our shows, we try to share feelings in our songs. We want our guests to be able to feel that and experience that time and time again when they come to our park."—Roger White, stage manager and auditions coordinator at Dollywood
Your attitude in the room will supercede your talent.
"The world is full of talented, passionate people. [We want] great employees and great ambassadors. Say we have a scale of one to 10 and you're a 10 on the talent scale and an eight on the good-attitude-and-being-a-nice-person scale, and then we have another person who's an eight on the talent scale and a 10 on the good-attitude-and-being-a-nice-person scale…I'll take the person with the 10 in attitude and being a quality human every time. It's the connection; it's the idea that they can connect with the audience—that they can, through their performance, develop a relationship with our guests."—Dan Fisher, area manager for resident shows at Hersheypark in Hershey, Pennsylvania
You should be more prepared than ever for the unexpected.
"You may have prepared one song [for your audition], but what if you get asked to try something else? Be open to the possibilities of how your talents can be used and expressed." —Scott Gasparich, Busch Gardens Williamsburg Vice President of Entertainment
Choose material to target your audience, not just the casting team.
"[Theme park casting directors] want you to be a good fit for the show but also, and more importantly, for the park. For acting auditions, we look for diversity—usually requesting two different monologues that show strong contrasting characters. This gives us the ability to cast one performer in multiple productions. We are looking for highly animated individuals who can capture the attention of children."—Shawn Greiner, entertainment supervisor for Legoland
Now, you're ready! Check out Backstage's theme park casting notices to book an audition!