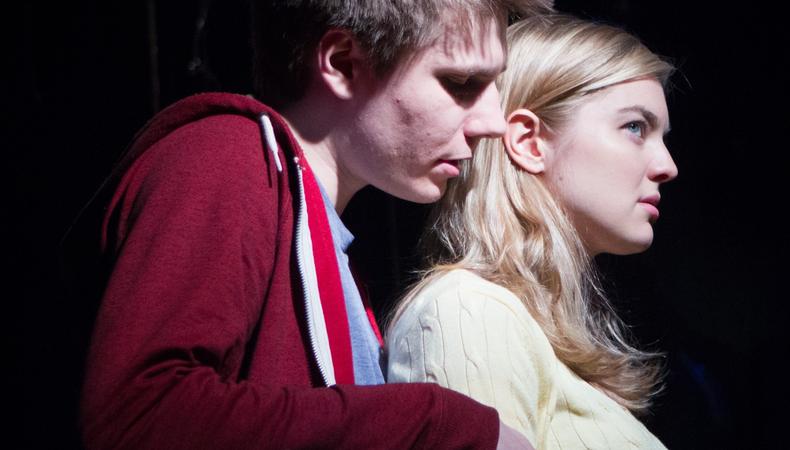 Learn from your mistakes. My parents' generation made them, grew, and moved on. My generation makes mistakes that cyber space captures and preserves in a living time capsule. A mistake is no longer a memory; it can't be. Such is the plight of Vicky Walker, the high school senior in a downward shame spiral due to a sex tape gone viral, in Penny Jackson's "I Know What Boys Want." Presented by Ego Actus, Jackson's play raises timely questions about information permanence, privacy, and the blurring of feminism with premature sexual empowerment, albeit using characters boxed into Upper East Side prep-school stereotypes. Yet under the direction of Joan Kane the young actors own their archetypes—once they settle in—adding nuance to their performances and overcoming what could have been confining clichés.
As Vicky, the resident hot girl, Sara Hogrefe gives a commanding portrayal of resilience in the face of scandal, endearing Vicky to the audience from the start, even if she is constantly popping Xanax. Hogrefe's teen crackles with angry prowess as she scrambles to salvage her reputation and erase the impact of the tape. When Vicky reaches her boiling point, Hogrefe's primal scream shatters the wall between fiction and reality as the audience resonates with the girl's helplessness to undo the damage.
Teddy Lytle, as Ted, also shines, despite the character's trite tag of outcast surfer transplant. Lytle's honest portrait of this bashful California beach bum with strong, honorable values provides a lovable antagonist to the story's misogynistic high school frat boys: Vicky's boyfriend, Roger (Liam Rhodes), and her unsolicited videographer, Oliver (a make-your-skin-crawl Nick Vennekotter).
It is a shame that Dara O'Brien, as Vicky's mother, Margaret, falls short. Intended as a frumpy feminist, Margaret is merely frumpy in O'Brien's hands. During Margaret's moment of bravery—confronting Vicky's tormenters—O'Brien is tentative. Her expressions of raw emotion underwhelm, sabotaging would-be-meaningful interactions. The missed opportunities leave us questioning: Is Margaret upset with her daughter? Is she vexed with herself for not raising Vicky "right?" Is she angry with a society that doesn't prioritize the protection of women?
Jackson's script calls out the problem: Vicky's choices become entertainment for her peers and the pornographic cyber universe. Starlet Jacobs' set—which seems to be raining cell phones—serves as an apt reminder that someone is always watching and recording. As teens clamor to be noticed, life has become an ongoing documentary. It is through the dichotomy of Oliver's bad boy and Ted's good guy that we learn that "what boys want" is attention—of the loving variety.
In the words of Jackson, "Vicky's there [in the computer]. She'll always be there. She can't ever leave." With a bit of tweaking, "I Know What Boys Want" has the potential to leave an equally indelible mark.
Presented by Ego Actus at the WorkShop Theater, 312 W. 36th St., 4th floor, NYC. March 28–April 13. (800) 838-3006 or www.brownpapertickets.com.
Critic's Score: B+