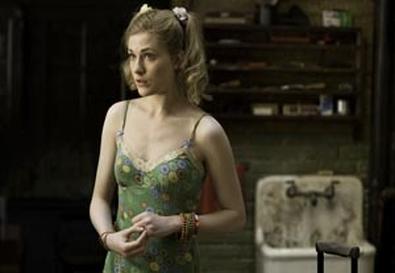 Evan Rachel Wood was stunned when she received a letter from Woody Allen inviting her to co-star in his newest comedy,
Whatever Works
. She had never auditioned for him; indeed, she had never met him. Further, there was nothing on her résumé that suggested she could tackle an Allen comedy. But a script was enclosed. The first time she saw the iconic director was at the screen test. "I don't know why he thought I could do this," Wood says. "But I thought he must know what he's doing, because he's Woody Allen. A lot of people think I'm funny, but nobody wanted to take that leap of faith on me before."
Previously cast as Mickey Rourke's angry and estranged daughter in
The Wrestler
and perhaps best known for her 2003 breakout role as the alienated depraved teen in Catherine Hardwicke's controversial independent film
Thirteen
, the Raleigh, N.C.–born 21-year-old Wood acknowledges Allen's film is brand-new territory for her. Set largely in Manhattan's West Village, the film centers on the evolving relationship between a comically misanthropic intellectual geezer (Larry David) and an innocent Southern runaway, Melodie (Wood), with whom he falls in love.
"This is the first time I had experienced how mathematical comedy is," says Wood. "There is an art to the timing and flow. If you miss a beat, it's like missing a line. If you come in with a punch line even a second early, it kills the joke." The other major challenge is playing a character that is so totally different from her, she adds. The heavy-duty Southern accent posed problems too, says Wood, who worries that its regional nonspecificity may offend someone. "No, there was no dialect coach," she says.
As Natural As Possible
A working actor since she was 5, Wood admits scene breakdown and character analysis is second nature. She doesn't think about it as her "method," though she consciously grapples with a character's major decisions and motivations. "I can't act what I don't understand," Wood says. Although preparation for each role varies, with Allen's script Wood's first order of business was knowing it backward and forward so when rehearsals began she was totally ready; as she says, she didn't want to misread one word of Allen's text. As it turned out, he didn't care; he was far more easygoing than she had anticipated.
"Woody has an interesting approach and one that I was not expecting," notes Wood. "I was terribly worried about messing up the lines, but he's open to that. He wants it to sound as natural as possible. He says, 'You know the script; you know the scenes; you know what has to happen. With the story as your guidelines, feel free to say what you want.' He's very hands-off. He doesn't want actors to overthink. He doesn't want it perfect. He wants it messy. His favorite take I did was when I forgot a line and started improvising. He said that's when I sounded most natural."
Allen's hands-off approach did not make the actor more comfortable. But, says Wood, "That's when you give the best performance. By not giving me a lot of direction, he got me off guard, and that's when I became the most honest and vulnerable."
Rourke, for one, has nothing but praise for her. "She's so focused for such a young age," he says. "She'd do a dozen takes in a row, each one better than the last. I kept wondering, who is this girl and where did she come from? I looked forward to going to work every day." He adds, "She's been good in everything I've seen her in, and she made my job easier. I can't think of the last time I was impressed with an actress in that age range."
Time Goes By
Wood comes from theatrical stock. Her father is Ira David Wood III, an actor and director. Her mother is Sara Lynn Moore, an actor, director, and acting coach. As Wood tells it, she was just joining the family business when she started acting at the Raleigh's Theatre in the Park, a community theater her father founded and runs. Wood then appeared in several TV movies before moving to Los Angeles with her mother in 1996. In short order, Wood had a regular gig on
The Profiler
and then
Once and Again
. Her first major screen role was
Digging to China
, starring Kevin Bacon, followed by
Practical Magic
, with Sandra Bullock and Nicole Kidman. Other films include
Running With Scissors
; the sci-fi drama
S1m0ne
, starring Al Pacino; and Ron Howard's
Missing
, in which she played the kidnapped daughter of Cate Blanchett and Tommy Lee Jones.
Wood left public school in seventh grade and was home-schooled from that point on. She has toyed with the idea of attending college but admits she doesn't have any strong desire to pursue that path. As a working actor, she is already doing what she wants, and she has traveled extensively, which Wood views as her real education. Indeed, she chose to stop acting for two years to travel. "I went all over the world, and when I came back I did
The Wrestler
," she says. "You need that. You get tired and fed up, and then when you come back you realize how much you've missed it."
Looking back, Wood's major regret was not being mature enough to fully protect herself when she started acting professionally. She says she never really had the time to discover what her needs were. "I was 14 and I didn't know who the hell I was," she recalls. "It's very hard to figure out who you are and what you're about if people are constantly telling you what that is. Everyone was saying, 'This is what's cool,' and 'This is what's pretty,' and 'This is what's not.' And you go with it. And years went by before I realized I hadn't taken the time to be myself. That's why I traveled."
The Art of Growing Up
Unlike many other child/teen actors, Wood did not find acting opportunities drying up as she matured, speculating that's because she played so many mature roles even as a youngster. Still, when she turned 18, suddenly the burden of responsibility fell on her shoulders. Almost overnight she was contending with finances, publicity, agents, and script selection. Dealing with the business end of the industry was a hard lesson. "I had to learn who was genuine and who was not," she says. "And that applies to filmmakers too. You can pretty much tell the kind of film a director will make on the basis of the kind of person he is."
Wood admits she has turned down projects—and dropped out of others—because she couldn't connect with the other actors or director. She says she is turned off by a director who is not open to discussion, collaboration, or the team effort required to make a film. "I have to have the freedom to make the role my own and feel comfortable," she says.
Aside from the cast and director—and the chemistry she anticipates she will have with them—what attracts Wood to a project is a script "that sticks with me and that I find myself thinking about days later or even years later. I've been attached to movies that have taken two years to be made. And I've worked with first-time directors if I've loved the script and the role."
The movie role she is most proud of—aside from Melodie—was Lucy, a singing part, in Julie Taymor's
Across the Universe
, for which Wood was called upon to "act and sing live and do both well." She says she was not a singer and took voice lessons before coming on board. "I really didn't think I could do it, but by the end I wanted to sing live," she recalls. She is hoping to collaborate with Taymor again in the tentatively slated Broadway-bound musical version of
Spider-Man
. Wood is hoping to play Mary Jane Watson.
Putting Up With Off-Putting
Wood says she has learned the art of auditioning, although she finds all auditions bizarre and off-putting. "You walk into a room, and people are behind a desk, staring at you," she says. "There is one light and one camera focused on you, and you're nervous. You may have to do a real emotional scene and be playing off someone who is dead. Still, you have to walk into the room like you own it, like you're supposed to be there. So much of succeeding at an audition is confidence. It's as important as how you do the scene. It's the whole package."
Although Wood cannot imagine not being an actor—or earning her living in some other creative way, such as singing—the cost of fame has almost pushed her to reconsider. (Wood has had friction with other reporters who questioned her about her relationship with rocker Marilyn Manson.)
She views many celebrity reporters as invaders who have succeeded in demeaning the art of acting: "It's gotten to the point—and I've spoken to other actors about this—that it's almost not worth it. You're putting your heart into something, and in a second it's destroyed by [reporters] concentrating on personal matters. Perhaps it sounds pretentious, but I have no problem saying it. Acting is an art. The respect for the art is dropping, and that's disgusting. The focus is on a celebrity's love life and what she's wearing, and it has gotten out of hand. And it overshadows the art. Some people are doing amazing work, but no one will give them the time of day because they may have had a bad story in the press." Wood says in her view all publicity is not good publicity, if "no one will hire you as a result."
Since this interview, Wood returned to Theatre in the Park in Raleigh to play the female lead in
Romeo and Juliet
for five performances as a fundraiser for the theater. Her brother actor Ira David Wood IV directed the production and played Mercutio, and her father played Capulet. Juliet is a role Wood says she has always wanted to tackle and had "better do now, before it's too late."
But her thoughts are most focused on
Whatever Works
, hopeful that it will open doors to more comedy. She says she wants to continue acting—and make a good living at it.