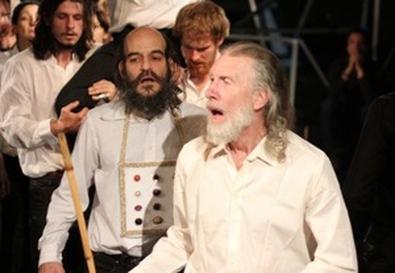 It's worth admiring Judith Malina's commitment to radical anarchism. In a time when socialists and communists are getting all the negative attention, Malina remains oblivious to political fashion and is committed against all odds to a total transformation of the sociopolitical sphere. More incredibly, she's going to get us there through theater. She's a one-of-a-kind Pollyanna, waving the revolutionary flag on the way to blocking rehearsal.
"Korach," Malina's newest play, which she also directs, turns a chapter-long episode in the Book of Numbers into an origin myth for anarchism. Korach was a wealthy Israelite who challenged Moses' authority on the grounds that "each one of us is holy." In the Bible, God opens the earth to swallow Korach and his followers. In Malina's retelling, Moses becomes, of all things, a theater director, hooking up a rope to a trapdoor and opening it just as the Korahites approach the tabernacle. After this act of deceit, the spirits of the "first" anarchists are revived by inviting/shaming the audience into leaving their seats and joining in a group dance and chant. It's a little embarrassing at first, but most everyone gives in and decides to have a good time.
This structure is the same as that of "Red Noir," the play Malina directed last year, in which a group improv also sets right the conflicts in the theatrical plot. It's not clear what these deus ex audiences do for the cause of radical anarchism, except reveal how Malina's utopian convictions can get in the way of her formidable skills as a director. The show's narrative may be overly schematic, and the cast may have the naive eagerness of churchgoers in a Passion play, but Malina nonetheless makes the bulk of the evening compelling, even haunting. Moses (Silas Inches) and Korach (Jerry Goralnick), speaking between lengthy choric sequences, emerge like dueling tyrants in an Aeschylean tragedy. Sheila Dabney, as Moses' wife, is allowed such a fiery presence that she raises the hair on your skin. In its best moments, "Korach" has the feel of a genuine sacrament.

Presented by and at the Living Theatre, 21 Clinton St., NYC. Dec. 16–Feb. 28. Wed.–Sat., 8 p.m. (No performances Fri. and Sat., Dec. 24 and 25.) (212) 352-0255, (866) 811-4111, www.theatermania.com, or www.livingtheatre.org.