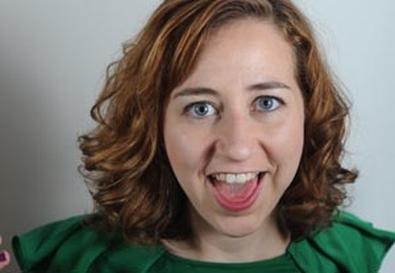 Kristen Schaal will let you taste her borscht—on one condition. "We can share a spoon," she says as she slides a small bowl and its fuchsia-colored contents across the table. "Do you have herpes?"
Thankfully, there are no communicable diseases at this table—only the borscht, a plate of pierogi, and Schaal, the adorable queen of New York's alternative comedy universe. We're sitting in the Ukrainian East Village Restaurant on Second Avenue, a place that has all the decorative charm of an Eastern Bloc government facility, pre-perestroika. But the food is good. "Is that sour cream?" she asks. "Hot damn."
The joint is also dead empty, which is important, because Schaal is kind of famous. She has been performing in the city for about a decade, and in recent years she has captured national and even international attention, thanks in no small part to her work on such television shows as "Flight of the Conchords" and "The Daily Show With Jon Stewart." She is taller than she looks on screen, and her hair is an unshocking red. Then there's her face. Much has been made of Schaal's face, which is pretty and more expressive than a Warner Bros. cartoon. But there's also her voice. Talking to her, one gets the feeling that she has been a master of her instrument for a very long time. She's at the other end of the spectrum from, say, Tina Fey, the brilliant comedy writer who on screen displays all the performance capability of a brilliant comedy writer.
Schaal, on the other hand, is an exuberant entertainer, one whose comedy is rooted in an exaggerated awkwardness and at times can feel a bit performance-arty (in a good way). Type her name into Google, and one of the first things that comes up is a bit titled "Kristen Schaal Is a Horse!" in which Schaal stomps around stage, arms and legs flailing, while her sometimes collaborator Kurt Braunohler half-sings, half-screams, "Kristen Schaal is horse!" for 90 solid seconds. It's hilarious, but also excruciating and a little dark. It seems more like self-immolation than self-deprecation.
"I'd like to be a little more cerebral, I guess," Schaal says. "I think I was very visual at the beginning, and now I'd like it to be something where maybe I could even put it on a CD." She notes that there isn't much material from her first 10 years of doing standup that would make sense sans images. "There would be so many silent pauses. People would be like, 'What is she doing up there?' 'Well, she held up a dead caterpillar. She was talking to a bird, but the bird wasn't there.' 'Really? Ugh.' "
Via Chicago
Strange has always suited Schaal. She began performing at age 15 in her hometown of Longmont, Colo., acting in school plays and working with a community-service improv group that "helped reach out and do stuff" called Break the Cycle. "It helped me break the cycle of living in Longmont, Colorado," she says. After a year at the University of Colorado, she transferred to Northwestern, where she was told that there wasn't room for her in the theater program. Undeterred, she spent a semester sitting in an acting class she wasn't allowed to enroll in, waiting for the instructor to reward her tenacity and let her participate. At the semester's end, the teacher relented, and Schaal was allowed to sign up for acting courses. In the evenings she rode the train into Chicago, where she took improv classes at the Second City conservatory and joined a team at iO. The training was great, but the commute sucked.
"Lots of murders were going down, so I sent my mom and dad newspaper articles about them," she says. "Next semester they drove up their old car, and I got to drive to my shows. It was hard to find parking, though."
As college ended, she traveled to New York with nine other Northwestern students for a two-day showcase. She landed a theatrical agent, a commercial agent, and a manager, then went back to Chicago to pack up her things to head east. Shortly after arrival she landed her first audition—a pilot for a series fittingly titled "Welcome to New York." The part went to Sara Gilbert, and Schaal took a job waiting tables at the Planet Hollywood in Times Square. Around this time, she turned to standup. "I only did that because I didn't know what to do," she says. "It was like, 'I need to put on a little play every week, or why am I here?' "
She began haunting open mics and checking out comedy at venues such as Luna Lounge, where she wandered in one night and saw Marc Maron and Eugene Mirman on stage. For the next two years, she showed up there every Monday night, bought a drink, watched the performances, and left without speaking to anyone. Finally she worked up the nerve to submit a tape to the show's booker. She made the cut, and her open-mic days were soon over. Then she met Braunohler, and the two started their own weekly variety show, "Hot Tub With Kurt and Kristen," which they still co-host. Having her own room gave Schaal an excuse to start networking—something she admits she's terrible at. She would ask comics to do her show, then they would ask her to do theirs. "It was like straight up from there," she says. "Hot Tub" may be a bar show, but Schaal considers it one of the great wellsprings of her career.
Wrestling Andy
"My sensibilities are like, 'I want it to be weirder.' " Schaal sort of growls the last word as she spears a pierogi. Indeed, the only comic she cites as a major influence is Andy Kaufman, the great martyr of weird comedy; she even won an award named for Kaufman at the 2005 New York Comedy Festival. "I never really saw myself as a standup comedian," she says. "I always just thought of myself as someone who used the eight minutes or 10 minutes she was allotted and had a blast."
That is a lot like Kaufman's view of himself. He was a comedian, but he was also a TV actor, a professional wrestler, and an Elvis impersonator. Schaal doesn't do two of those things, but her résumé is diverse in its own right. She co-founded with other Northwestern grads the sketch group Story Pirates, which promotes creative writing and arts education for kids—a throwback to her days breaking the cycle in Colorado. She has performed at the Edinburgh Festival Fringe and at the Aspen and Melbourne comedy festivals, won a Lucille Lortel Award for her performance Off-Broadway in Nick Jones' "The Coward," and voiced a talking stuffed triceratops in "Toy Story 3." In 2005, New York magazine named her one of its "Ten Funniest New Yorkers You've Never Heard Of." She credits the piece with getting her invited to Aspen—and she credits Aspen with getting her cast on "Flight of the Conchords."
Though it lasted only two seasons, "Conchords," the HBO series about a two-man band based on the work of New Zealand comics Bret McKenzie and Jemaine Clement, had a devoted following and received a lot of love from critics. For Schaal, who played Mel, the Conchords' lone fan, it was her big break.
"It was weird but cool, because it was happening to all of us at the same time, so we could stick together," she says. She describes going to the HBO Emmy after party with her castmates, then running into them the next morning, hung over: "We were all sort of looking at each other like, 'What's happening? We just got famous.' "
Schaal got more famous when she made her first appearance on "The Daily Show." It was 2008, and Schaal was watching with disappointment as Hillary Clinton's presidential bid faded. ("I honestly believe that she was our best shot at having a female president, because her credentials are f---ing off the hook.") At one of Schaal's standup shows, she staged a bit during which she videotaped herself delivering a time-capsule speech to the future first female president—in the year 2300. She went home and told her boyfriend, "Daily Show" writer Rich Blomquist, about it. Blomquist took the idea to Jon Stewart. Schaal came in to audition, and the next night was introduced as the show's new special correspondent. In typical "Daily Show" correspondent fashion, she opened by trading jabs with Stewart and being hyper-topical. In typical Schaal fashion, she then presented a bizarre series of videos within videos tracing her ancestors and their enthusiasm for failed feminist icons back to the Mayflower. The piece ended with Schaal telling Stewart that one of her relatives was a witch.
Blomquist and Schaal have collaborated on scripting most of her "Daily Show" appearances. They also co-wrote "The Sexy Book of Sexy Sex," a parody sex-ed manual in the vein of the "Daily Show" faux textbooks "America (The Book)" and "Earth (The Book)." "I pitched this sex book," she says, "and in my mind, I was like, 'Oh, how romantic would it be to write this with my boyfriend?' " So was it romantic? "No, it wasn't. It was hard."
Holler Back
Schaal and Blomquist met when he cast her in an Adult Swim pilot that never made it to air. At the end of the first day of shooting, he asked her out. ("It was a proper dinner, which was awesome.") This fall, Schaal will finally make it to Adult Swim. At its upfront two weeks ago, Cartoon Network's nighttime programming block announced it had picked up "The Heart, She Holler," a live-action series "set in a town so inbred, the folks have become almost supernaturally wrong," according to the network. Schaal will star alongside Patton Oswalt and Heather Lawless. Details are scant, and the pilot has yet to be shot, but the show has already been picked up to series—and Adult Swim, where comedy lab experiments such as "Aqua Teen Hunger Force" and "Tim and Eric Awesome Show, Great Job!" have turned into bona fide phenomena, seems a good fit for Schaal. In the meantime, she'll keep honing her standup.
"I still try to have fun," she says after the borscht is gone. "I've kept that same approach that I started with. I definitely do weird things every show."
But she is evolving. Early on, she was obsessed with never repeating material—a bad obsession for someone who hosts her own weekly show. Now she has realized that only through repeating material can she refine it—figure out what works, what doesn't, and what can be made better. And, yes, she really would like the act to be more about what she says and less about how she looks when she says it.
"I've been trying to be more verbal," she says. "After that, I'm going to be more tactile. After I get the verbal, I'll go to the touching, and move on to the smelling." Why not? If anyone could pull off tactile-based comedy, it would be her.