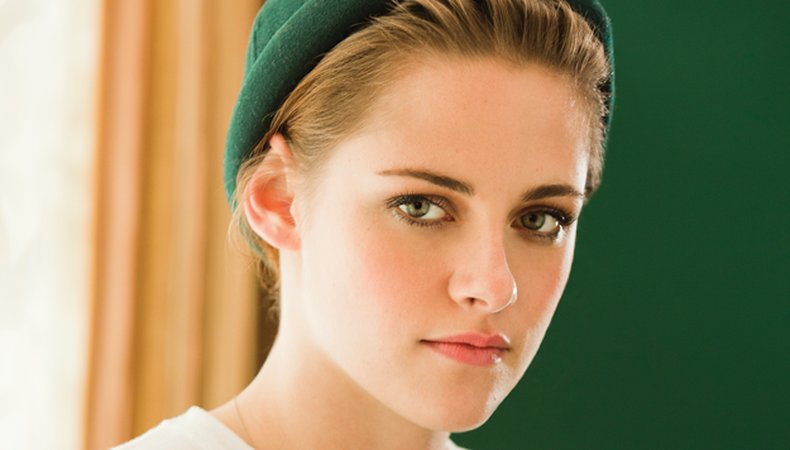 Kristen Stewart is not who you might think she is.
Since her career rocketed into the stratosphere with the first "Twilight" film in 2008, Stewart has frequently been portrayed in the media as serious or sullen, intensely private and uncomfortable with giving interviews. But spend a few minutes with the 22-year-old, and it becomes apparent that nothing could be further from the truth. Seated in the corner of a Beverly Hills hotel restaurant in a simple white T-shirt and a baseball cap just days before the release of the final "Twilight" installment, "Breaking Dawn: Part 2," Stewart seems at complete ease. She is thoughtful and warm; despite having only met once in passing six weeks earlier, she instantly recognizes and greets her interviewer with a friendly hug. She's got a sharp sense of humor. And, for the record, "I actually like giving interviews!" She elaborates, "Given that I can talk to a hundred or more people at a press junket, at some point there is going to be something brought up that makes me see things I never considered. It's fascinating to talk to so many people about one of the most important things in your life."
Stewart is also an actor, and a good one at that, a fact that seems to get lost in all the media attention devoted to her personal life. But before "Twilight," her talent was obvious to the likes of David Fincher, who cast Stewart at age 10 to play Jodie Foster's daughter in "Panic Room," and Sean Penn, who handpicked her to appear in his 2007 film "Into the Wild." There are also her acclaimed turns in the indies "Speak" and as a young woman with a neurological disorder in 2007's "The Cake Eaters," a performance so convincing people would always ask director Mary Stuart Masterson where she had found an actor with the actual disease. Next month will see Stewart in one of her most challenging roles to date, as 16-year-old free spirit Marylou in "On the Road," director Walter Salles' screen adaptation of the beloved Jack Kerouac novel.
Stewart actually met with Salles in 2007 after the director caught her performance as a melancholy teen in "Into the Wild," but it took several years for the film to get made. It's time that Stewart is grateful for. "The role was so beyond me at that point," she says. "I loved the character, and I would have done craft services to be involved with that movie. But I drove away shaking because I was thinking, 'Oh, my God, I think I'm going to get the job, and I don't know if I can do it!' "
Playing someone as uninhibited as Marylou, who romances both her boyfriend, Dean (Garrett Hedlund), and the film's protagonist, Sal Paradise (Sam Riley), required Stewart to be exposed, figuratively and literally. The nudity didn't intimidate Stewart, who played a stripper in 2010's "Welcome to the Rileys," though she knew it was something the media would latch on to, anticipating headlines like " 'Twilight' Good Girl Bares All!" says Stewart, "I know it's an odd thing to say, but it didn't worry me. I really do love taking walls down. I didn't want to hide, especially as Marylou—she's the last person who would hide." As it turns out, it was a simple dance scene that frightened Stewart the most. "But whenever I had doubts, I was able to talk to Walter, and all my apprehensions went away," she says. She starts to praise her director at length before stopping herself and saying, "What can I say—he's fucking awesome." Salles has nothing but kind words for Stewart in return. "Kristen is a seriously talented actress who's going to surprise us many times in the future," the director says in a phone call from Brazil. "She has the possibility to do pretty much whatever she wants, and she opts for roles that are very courageous choices—characters you might not expect her to play."
While "On the Road" might seem like an attempt to break away from her "Twilight" image, that's another misconception about Stewart; unlike many actors associated with a popular franchise, she's not interested in putting Bella Swan behind her. "Other people try to distance me from her, but not me," she says. "I've said it a hundred times before: I love Bella." To that end, she admits to getting frustrated when people label the character as weak or passive; it does seem a faulty argument, considering how many times Bella takes action that endangers her life to fight for what she loves. "If Edward and Bella switched places, he would be viewed as someone to admire, someone who just lays everything on the line," she says. "It takes such a strong person to completely subject yourself to something and give yourself over to something so wholly. It's an equal relationship; they both give the same amount, so why is she condemned for it? I don't get it."
Aside from this year's blockbuster "Snow White and the Huntsman," Stewart has gravitated largely to independent fare between "Twilight" films, like playing Joan Jett in "The Runaways" or holding her own opposite Melissa Leo and James Gandolfini in "Rileys." But "Twilight" has much more in common with those scrappy indies than people think; the first film was not a guaranteed hit when she signed on, just a modestly budgeted movie with unknown actors from an unproven studio. "It's funny how people forget that," Stewart says. "If I don't look elated in a paparazzi photo, people say, 'Well, you signed on to this!' Well…not really, all right?" Stewart can pinpoint the moment she began to realize what the film would become. "It was at Comic-Con, when we were literally hit with the energy of 6,000 people like a brick wall in the face. That was the moment I went, 'What the fuck is this going to be?' "
No one could have anticipated the phenomenon it would become, let alone Stewart, who tries to take the scrutiny and attention in stride. Which brings us to "Fifty Shades of Grey," the erotic publishing phenomenon that began as "Twilight" fan fiction. Has Stewart read it? "Not really—I've skimmed parts of it," she says. "When I read the first few pages describing her messy hair, I was like, 'This is so strange.' " Stewart can't resist an uninhibited laugh, adding, "But it's just so raunchy! I mean, obviously, everyone knows that. But when I see people reading it on planes and stuff, I'm genuinely creeped out. Like, you're basically just reading porn right now! Get that blanket off your lap!"