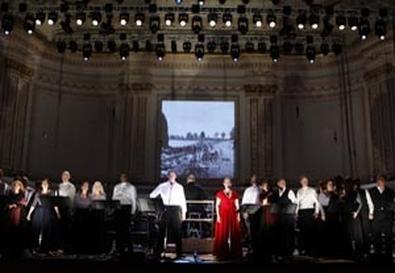 Ever since I heard Benny Andersson and Björn Ulvaeus' muscular, soaring, highly theatrical contemporary score for "Chess," I have been eager for another musical from them. Unfortunately, "Kristina" is not it.
The show is based on one of Sweden's most famous novels, "The Emigrants" by Vilhelm Moberg—though you wouldn't know it from the program, as there's no credit. The book was also the source for two critically acclaimed films, in 1971 and 1972, starring Max Von Sydow and Liv Ullmann. It tells the epic story of Kristina and Karl Oskar, two young Swedes in the mid-1800s who marry for love. After failing at farming due to an unforgiving climate, Karl and his brother Robert emigrate to America. The highly religious Kristina loves her homeland and doesn't want to go, but she is given no choice. Trials and tribulations face the couple and their young children over the years, but they eventually become successful farmers in Minnesota. However, Kristina is faced with a crisis of faith when she miscarries and nearly dies. Told that she and her husband must never make love again, she wrestles with God. But she recovers, as does her faith, and she resumes relations with Karl, certain it is God's will. Naturally, she gets pregnant again, and, yes, she dies.
The story teems with dramatic incident, but the musical is a tepid affair. Acres of music—the concert runs nearly three hours, despite the show's spoken book being reduced to clumsy narration—float and thunder by, but very little is successfully dramatized, with character suffering most of all. The insipid, platitudinous lyrics by Ulvaeus and Herbert Kretzmer aim for a spare peasant poetry but miss by a mile ("I sleep on dung/But I must hold my tongue"). They thud and clunk as misaccents abound. There's no way they can do the hard job of bringing these people to three-dimensional life. Andersson's music fares better. There are attractive harmonic textures, interesting and often effective melodies, and original accompaniment figures. Solos, duets, trios, chorales abound, a lot of them echoing the music for the Russian characters in "Chess." Unfortunately, the songwriters don't know when to quit. Songs go on long after the usually simple purpose for their existence has been achieved. The clichéd merry villagers—distinctly less merry than usual—become tiresome fast.
The principals are all superb singers, particularly Kevin Odekirk as Robert, and they more than give the score its due. The acting is another matter entirely. To be fair, the performers are hamstrung by director Lars Rudolfsson's formal, stand-at-the-mike-and-sing-out staging. They are given few chances to interact. When it happens—as in the lovely "Home," in which Kristina, newly arrived in New York City, must explain to her bewildered, homesick child where home is—we are grateful. Ultimately, only Helen Sjöholm in the title role has any success in inhabiting her character. My guess is that's because she created the role on stage in Sweden. I bet she was terrific, but we see only a hint of it at Carnegie Hall.
The redoubtable Paul Gemignani conducts the 50-piece American Theatre Orchestra admirably. The inventive orchestrations, presumably by the composer—again, there's no credit—sound smashing. I particularly liked the use of an understated electric guitar, which has the intended eerie effect yet never sounds anachronistic.
This presentation is subtitled "A Concert Event." I'm afraid that last word is a dead giveaway. The authors have written an event, not a musical.
Presented by Benny Andersson and Björn Ulvaeus, Ki-Chi-Saga, and Universal Music at Carnegie Hall, 154 W. 57th St
.,
NYC. Sept. 23
–
24. Wed. and Thu
.,
8 p.m
. (
212
)
247-7800 or www.carnegiehall.org. Casting by Tara Rubin Casting
.