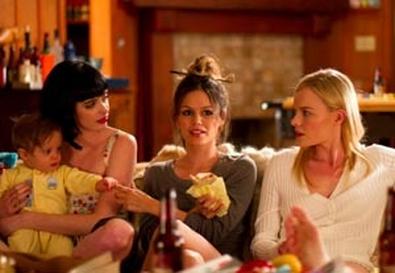 "
L!fe Happens
," which screens June 18 and 21 at the L.A. Film Festival, is about two best friends whose lives change when one of them gets pregnant. It was born from the friendship between actors and co-writers
Krysten Ritter
("She's Out of My League," "Breaking Bad") and Kat Coiro ("Murdering Mama's Boy," "Idiots"). The writing partners were driving through L.A.'s Rampart district with Coiro's baby in the back seat when inspiration struck. Recalls Ritter, "These guys pulled up next to us, and we're silly and we're kind of making eyes at them, and then the baby cries. And we're like 'Oh, my God, that's it!' So [Coiro's] real-life baby really inspired this whole story and journey in our lives."
Ritter and Coiro had been trying to create something in the vein of "Swingers" for women. Ritter says, "We were finding a lot of double standards where you can't have girls running around acting slutty." So they wanted to create something to fill that void and create content they wanted to see. "I love when the girls get to be funny," Ritter says. And the collaboration was a great energy source. "I loved being involved in the creative process. I love development and I love getting involved from the ground up. So this was honestly like the most heavenly experience. I got to do it all."
Ritter says creating the content and starring in the film was an amazing and unique experience. While they were writing, Ritter says, they had her in mind for the role of Deena (played by Kate Bosworth in the film), but they always wanted to do whatever was best for the film. As the project progressed and Ritter evolved as an actor, they decided she should play the lead, Kim. "I was essentially able to pull from what Kat was going through and watching her and seeing her have a baby, and I was the godmother," she reveals. Although she admits that at first it was weird hearing Bosworth say the lines Ritter and Coiro wrote for Ritter, she says, "Kate is amazing in this role, and now I couldn't see it the other way around."
Ritter says the biggest challenge wasn't the role—or wearing multiple hats as writer-actor-producer—it was working with a real baby. She says, "We had these mellow little babies [twins] who were really cooperative, but when you have an actual baby in your hands and a diaper bag and all of these things that you have to manage, that's really challenging. I think it lent itself to an authenticity that we were trying to capture. So it ended up being the most challenging part but also the best part."
Ritter and Coiro cast the project. "We both had these amazing relationships with actors," Ritter says. Rachel Bilson came in to read with her for the 2011 Amy Heckerling film "Vamps," and as soon as Bilson opened her mouth, Ritter thought she would be perfect for the character of Laura. Ritter used their mutual contacts to get in touch with Bilson, who read the script and signed on. Coiro and Ritter approached the other actors, many of whom they had worked with before, to round out the strong cast, and from there the project took off.
Ritter says she "learned how hard it is to make a film but also how accessible it really is" and that "it's good not to be afraid of big challenges like that. You can do anything if you put your mind to it."
"L!fe Happens" screens June 18 and 21 at the L.A. Film Festival. For more information, visit http://filmguide.lafilmfest.com/tixSYS/2011/xslguide/eventnote.php?notepg=1&EventNumber=4714