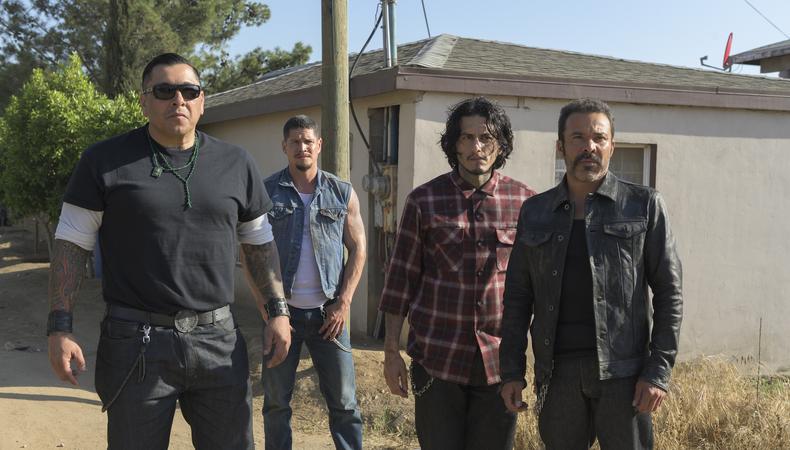 Despite his pedigree of hypermasculine hourlong FX dramas "The Shield," "Sons of Anarchy," "The Bastard Executioner," and now "Mayans M.C." (the second season of which premieres Sept. 3), what creator and showrunner Kurt Sutter looks for in the audition room may surprise you.
Take JD Pardo, who stars as EZ Reyes on "Mayans M.C.," the "Sons" spinoff and hit biker gang crime drama set on the California-Mexico border. Recalling Pardo's audition, Sutter cites some unlikely adjectives that appealed to him in casting his lead biker: "boyish" and "clean-cut."
"We went into it with the sense of who this character needs to be, obviously, in terms of type, but also, [we needed] somebody who has experience and chops and can pull off the complexity of what we're trying to do," Sutter says of auditioning actors for EZ and others. Pardo, whose previous credits include "East Los High" and "Revolution," initially came in to read for a different character. But after "nobody was really checking off any of the boxes" for the lead, something about the 38-year-old actor struck him.
READ: How Fear Informs JD Pardo's Performance on 'Mayans M.C.'
"There was something about him that wasn't hardened at all, and I really liked that, because I think it spoke to who this character needed to be. We can start there and have him become what he ultimately becomes," Sutter says.
A vulnerability or softness in the men he casts isn't unique to Pardo, either. In building the ensemble of "Sons of Anarchy," for instance, Sutter remembers explicitly wanting to subvert the expected tropes of biker gangs, a fact that certainly lent to the series' success over seven seasons.
"Yes, you have to believe them in this world, but I also feel like we're trying to break some of those stereotypes that every biker has to be overweight and have a beard," he says. "You have guys from every walk of life. And, yes, some guys definitely do fit what we would envision a biker to be, but for the most part, it's not that. For me, it's always about who feels real. If somebody comes in and they feel familiar to me, they feel derivative or like a 'type' I've seen, I tend to push back on that."
Sutter also likes an actor who puts in the prep work—and, yes, he can tell who does and who doesn't. When asked for his best advice for the audition room, the showrunner humors the question by putting on his dad hat. Drawing on the advice he gives his own children with wife and collaborator Katey Sagal, who themselves are actors, he says that preparation is key, and rejection is inevitable.
"I always recommend, if it's a big role, to work with a coach, bounce it off of somebody, [and] workshop it in class, just so that you understand all the beats, you understand the meanings, you understand what happens before and after the scene," he says. "But in terms of the auditioning process, I try to explain to my kids that it's just part of your job. Every audition you go on, you're not auditioning for that role, you're auditioning for the role that you're going to get six months from now, you know what I mean? It's just what you do. And you can't look at it in terms of needing that immediate result. Like, 'Oh, I didn't get it, I fucked up.' No—you prepare, you figure out what it is, you go in, you give the best audition you can, and you move on to the next audition. The idea of getting it, you have to filter that out of the equation because it's a numbers game, and there are so many factors that are going to determine whether or not you're going to get it. And, yes, some of them are talent, but a lot of them aren't. So you can't plug into that, and you have to trust that every audition you go on is the audition that's going to get you to the job later on."
This story originally appeared in the Aug. 29 issue of Backstage Magazine. Subscribe here.