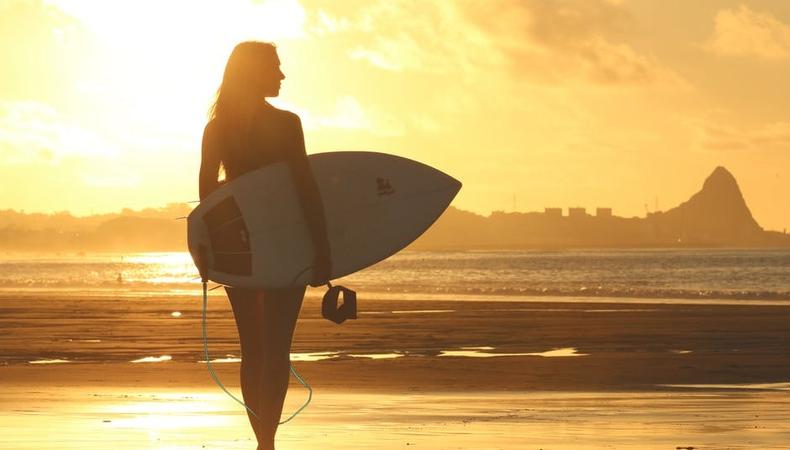 It's a good idea for everyone to take up a hobby or two. But for actors, hobbies can be more than just a whimsical way to fill an afternoon; they often serve as a lifeline during booking dry spells, as well as a way to get your mind off a job you're waiting to hear back from. Of course, for actors, affordability is also of the utmost importance, as are the long-term benefits.
Below are a few L.A.-specific hobbies you can take up and where to do 'em—some may even benefit your career!
Surf
Look, do you or do you not live in California? While it's not required that all Angelinos hop atop a surfboard at some point in their SoCal tenure, you may very well regret it if you never do. Not only is surfing a great form of physical fitness (that doesn't have the same obligatory feel as hitting the gym), but it's also a fantastic—and free!—way to fill entire days. You will have to invest initially in the necessary gear as well as some lessons, but from that point on, you're free to hit the waves at zero cost and zero worry.
Where to do it: You may want to research where classes are taught at the beach closest to your respective neighborhood but Kapowui Surf Lessons in Venice offers hour-long classes beginning at $55, while Learn to Surf LA in Santa Monica has classes starting at $80 (all equipment included).
Learn a new language
Here's a hobby that will not just enrich your life, but could also potentially enhance your career prospects. After all, it can only benefit you to have another language or two listed under the special skills section on your résumé!
Where to do it: Try the Beverly Hills Lingual Institute, which offers courses in more than 30 languages at all different intensities and times of day, so you can tailor the class to fit your needs. Classes start at $295 for an eight-week term.
Improv
Whatever kind of acting you want to do be it film, television, or theater, having at least some experience in improvisation will be to your advantage (and another great notch to add to that special skills section). You likely know that some of today's biggest stars got their starts in improv at Second City and UCB (Tina Fey, Stephen Colbert, Rachel Bloom, to name a few), both great institutions, but L.A. also has tons more places you can learn to say "Yes, and."
Where to do it: Check out Improv-LA, which offers a six-week course specialized for beginners that will help you master all the basic tenets. Cost is $350.
Gardening
Some hobbies on this list can very easily be applied to furthering your career, while others, well, they're likely going to be just for you—which is totally fine! The art of gardening falls under the latter category, however, many who practice swear by its meditative effects. Even if your thumb is not-so-green, or you live in an apartment complex without so much as a patch of grass, don't be deterred if you have a sprouting (forgive us) interest in gardening.
Where to do it: Head over to the Los Angeles Community Garden Council to find the community garden in (or closest to) your neighborhood! Not only will you be getting involved with your local community as well as meeting those in it, but you will also be making it more beautiful, all the while taking your mind off of any and all callbacks and submissions.
Climbing
Another hobby to supplement your physical activity if you're gym-averse, climbing has recently made quite a comeback since its '90s heyday. There are loads of indoor facilities all over L.A., many of which are open until 11 p.m. or later, so you can squeeze a climb in at any time.
Where to do it: Rockreation LA in Westwood has one-day passes for just $20 so you can give it a go commitment-free; if you love the rush, you can invest in monthly membership for $75.
Yoga:
It's tried. It's true. You know it's relaxing.
Where to do it: Lucky for you, we've already got a list of some of the great spots you can get your "om" on all over L.A. that are 100 percent cost-free or donation-based (as well as other spots in L.A. to work out for free).
Ready to book a gig? Check out Backstage's L.A. audition listings!