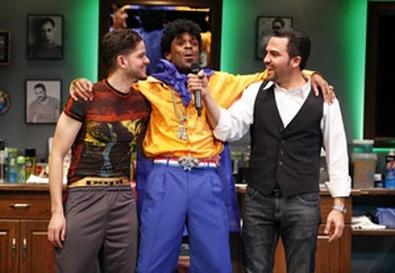 Beny owns a barbershop in Manhattan's Washington Heights neighborhood, but he is tempted to accept an offer to buy the building. His sister Nurys, a student, doesn't want him to sell, and neither do any of the others who hang around the shop—colorful characters who love the neighborhood despite their struggles and who occasionally break into Latin song and hip-hop dance. If "La Barbería (The Barbershop)" sounds a lot like "In the Heights," it's not. There are huge differences between that hit Broadway musical and this more modest Off-Broadway play.

The most crucial distinction is that David Maldonado and Arí Maniel Cruz's play, performed almost entirely in Spanish, is intended primarily for a Dominican audience. You will more fully appreciate the show if you understand the slang and cultural references of Dominican New Yorkers—if you already know, for example, who Zoe Saldana is. (She played Neytiri, the 12-foot-tall love interest in the film "Avatar," and, yes, Saldana spent much of her childhood in the Dominican Republic.) Saldana is mentioned as part of a running joke about Dominican attitudes toward skin color. Less comfortably, the only explicitly identified Puerto Rican character is also the only criminal.

"La Barbería" is not a full-fledged musical. Despite a running time of about two hours, there are only about a half-dozen original songs (by the director, Waddys Jáquez), with minimal if spirited choreography. Still, the musical interludes are the highlight of the show.

In between the songs are largely comic interplay and argument. As explained by Correo (Modesto Lacen), an undocumented handyman who serves as something of a narrator, the barbershop, the sole setting of the play, is a place where people discuss "politics, religion, sports, and Jennifer Lopez's ass." The serious climax is, to put it politely, a kind of homage to "A Raisin in the Sun," but it's less effective because the characters of "La Barbería" often slip into caricature.

Manny Perez, who was so wonderful in the 2002 film "Washington Heights," plays Beny, the solid straight man in a cast of seven whose performances offer further proof of this city's rich supply of Spanish-speaking talent.



Presented by David Maldonado and Juan Toro at New World Stages, 340 W. 50th St., NYC. Opened Feb. 17 for an open run. Mon., Wed.–Fri., 8 p.m.; Sat., 4:30 and 8 p.m.; Sun., 3 and 7 p.m. (212) 239-6200, (212) 239-6240 (for Spanish), (800) 432-7250, or www.telecharge.com. Casting by Waddys Jáquez.