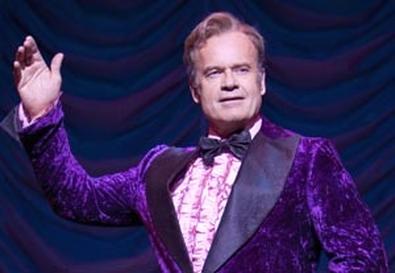 Why mount another Broadway production of "La Cage aux Folles" when we just had one in 2004? The answer is that Terry Johnson's London staging and its Olivier Award–winning star, Douglas Hodge, inject this 1983 Jerry Herman–Harvey Fierstein musical version of the 1978 French film with ingenious razzmatazz and a heartbreaking humanity that its immediate predecessor lacked.
Despite scaled-down production values and a smaller cast and orchestra—a trademark of the tiny Menier Chocolate Factory, where this edition started—Johnson creates a credible and entertaining drag show presented by Georges, the owner of the titular Riviera establishment, and headlined by his lover, Albin. (Set designer Tim Shortall even extends the showroom atmosphere into the audience by replacing the first few rows of seats with cabaret tables and chairs.) You could take the onstage numbers out, plunk them down in any gay-themed nightclub, and rake in the cash. There are only six Cagelles this time out, but each is a gorgeous vision and expert dancer, performing Lynne Page's campy choreography with abandon and pizzazz. Kudos to Matthew Wright's dazzling costumes and Richard Mawbey's wig and makeup design.
Every transvestite cabaret revue needs a diva, and Hodge more than fulfills that requirement as Zaza, Albin's onstage alter ego. George Hearn, the original Albin, and Gary Beach, the 2004 star, did not throw themselves into the Zaza aspect of the part the way Hodge does. He doesn't have much of a voice, delivering his songs and dialogue in a nasal Cockney, but Hodge is a master comic and devilish mimic. He shifts from Marilyn Monroe to Marlene Dietrich to Zaza, his "own special creation," with amazing ease. Not only is Hodge at home in the glittering make-believe world of "La Cage," he makes Albin a loving partner for Georges and caring parent to Georges' son, Jean-Michel. For the first time, I actually believed Georges and Albin as a devoted longtime couple, and the silly plot involving hiding their gayness from Jean-Michel's conservative prospective in-laws had an added resonance. When the onstage and backstage worlds collide in "I Am What I Am," Albin's anthem of self-expression, Hodge shows us both a consummate performer and a betrayed husband defiantly holding on to his identity.
Kelsey Grammer may be the TV name drawing in audiences, but he is largely consigned to playing (you'll pardon the expression) the straight man to Hodge. Yet Grammer gracefully cedes center stage. He subtly conveys Georges' quiet devotion to Albin and displays a rakish charm appropriate for a St. Tropez emcee. As Jacob, the flighty butler, Robin De Jesús seems to have washed up on the shores of the Riviera after swimming from the Bronx River. But his gritty Nu Yawk manner spices up the domestic scenes immeasurably. The reliable Fred Applegate and Veanne Cox double up, adding depth to both the stuffy in-laws and a friendly married pair of café proprietors. Christine Andreas makes the plot-device role of Jacqueline, a scheming restaurateur, stylish and saucy. A.J. Shively and Elena Shaddow are attractive and full-voiced as Jean-Michel and his girlfriend Anne, but they tend to fade into the background.
That's not the fault of these two performers. With a Tony-worthy performance from Hodge, few could steal the spotlight.
Presented by Sonia Friedman Productions, David Babani, Barry and Fran Weissler, and Edwin W. Schloss, Bob Bartner/Norman Tulchin, Broadway Across America, Matthew Mitchell, Raise the Roof 4, Richard Winkler/Bensinger Taylor/Laudenslager Bergère, Arlene Scanlan/John O'Boyle, Independent Presenters Network, Olympus Theatricals, Allen Spivak, Jerry Frankel/Bat-Barry Productions, and Nederlander Presentations/Harvey Weinstein at the Longacre Theatre, 220 W. 48th St., NYC. Opened April 18 for an open run. Tue.–Sat., 8 p.m.; Wed. and Sat., 2:30 p.m.; Sun., 7 p.m. (212) 239-6200, (800) 432-7250, or www.telecharge.com. Casting by Duncan Stewart.