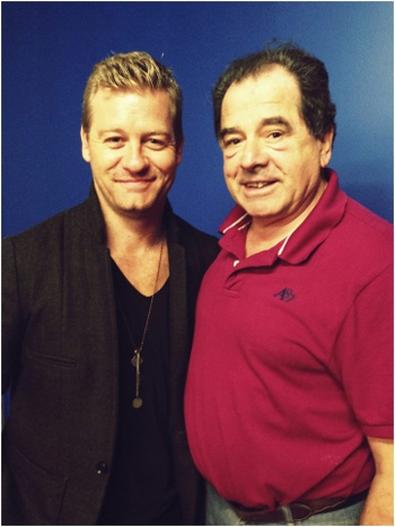 The Australian beachhead in Los Angeles is growing, with an actors' training program based Down Under set to expand.
The Australian Film & Television Academy (TAFTA), founded by actors John Orcsik and Paula Duncan, has for several years operated a training program that brought Aussie actors to L.A. for a 10-week immersion. Beginning in September it will open its doors in a new location with an expanded course list that caters, in part, to local talent.
The school is part of a growing Australian presence in Los Angeles. The recently formed Australian Theatre Company just completed a successful run of "Holding the Man," a play that was produced in part with a successful crowdfunding campaign. The company expanded its appeal beyond expat Aussies, and TAFTA is hoping for the same success.
Los Angeles has no shortage of actors' training programs, but none offer the kind of Australian rigor and frankness of TAFTA, said Jessica Orcsik, an Australian performer and daughter of the school's two founders.
"We're not afraid to tell you what's not working—that's what's going to set us apart from everyone else," Orcsik, the academy's L.A. network and program director, told Backstage. "If you don't know what's not working, you're not going to know how to fix it."
For the last few years, TAFTA has operated a program called the L.A. Experience, which helps Australian actors come to the city and get some experience in the entertainment industry. Now that program is being expanded to include students from around the world, while TAFTA is also offering courses that it hopes will appeal to local talent.
In addition to casting director workshops and courses on how to find an agent, said Orcsik, "We're actually going to look at the areas where you're going wrong. Sometimes people are afraid to let actors know the truth and you want to give [them] all the positives. But if you don't learn what the negatives are, you can't grow."
TAFTA currently rents a small space in Burbank but plans to expand ahead of the Sept. 15 launch of the new program. Tuition for its main program runs about $5,100, with transportation and housing available at additional cost.
Beyond providing actors with some Australian-style feedback, TAFTA also helps international students navigate the U.S. immigration system. International actors often get what's known as a O-1 visa to work in America. But the status, which is granted to individuals of "extraordinary ability," is difficult to secure. Orcsik said one of TAFTA's Los Angeles courses will be on immigration law and help connect students with local attorneys who could potentially handle their cases.
"If you have a dream and you want to come here, we want to help you do this," she said. "We're providing something fresh and new and uniquely Australian."
Inspired by this post? Check out our audition listings!