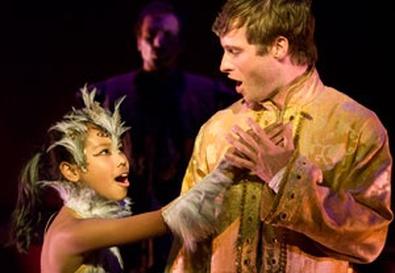 The La Jolla Playhouse prompted controversy over casting choices for new musical, "
The Nightingale
," on Wednesday.
Written by Duncan Sheik and Steven Sater ("Spring Awakening"), the show, which began performances July 10, is loosely based on the Hans Christian Andersen fable. Though the musical is set in China, the production has few Asian cast members.
"It was our intention from the onset to create a multicultural cast in a reinterpretation of this Hans Christian Andersen classic fable, blending East and West, past and present," Christopher Ashley, the playhouse's artistic director, said in a statement.
Many commenters on Facebook were upset by the lack of Asian talent.
"It's a severely missed opportunity to showcase talent in the Asian-American community and directors should rethink how they 'reinterpret,' " wrote Jeff Courtrymen, one of the many angry Facebook users who responded to Ashley's announcement.
Sheik responded by stating that the piece isn't about the Asian culture, and went on to explain that Andersen's purpose was "writing a satire of the West, and setting it in China."
At the start of the workshop process, "The Nightingale" had an Asian cast, but was changed since it wasn't "appropriate to the piece we've written," said Sheik.
The cast features Corbin Reid ("Sister Act"), Obie-Award-winner Eisa Davis, Bobby Steggert ("110 in the Shade"), and Tony-nominee Charlayne Woodard ("Ain't Misbehavin'").
"The Nightingale" plays at the La Jolla Playhouse through Aug. 5.