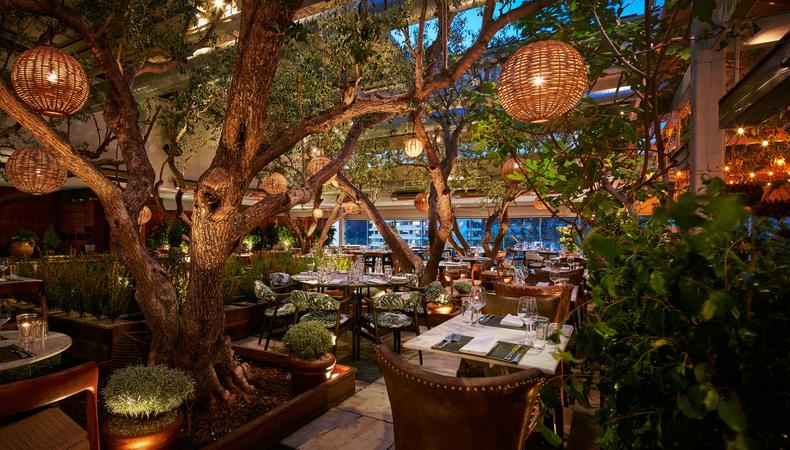 If you're a Los Angeles-based actor, chances are very high that you'll have to take a lunch meeting at some point—if not many lunch meetings, at many points. Between your agent, manager, casting directors, and various writers and creatives with whom you're thinking about working, there may be stretches where you're seemingly required to "take a meeting" every other day.
In this sprawling city, there is what feels like an infinite number of restaurants to choose from when picking a meeting spot. So, how do you decide which is worth your time and precious coin? Below are five L.A. lunch meeting staples to have in your back pocket, from the affordable to the swanky, so you have an outpost for each occasion.
Soho House
Where: West Hollywood
The draw: You've probably heard of Soho House which, in addition to its prime location in West Hollywood, has outposts in New York and London. Maybe you've heard rumors. Here's the deal. Soho House stands out for one reason alone: exclusivity. In order to gain entrance to the posh restaurant and the club's other amenities (like its private movie theater), you have to be a member or the guest of one, making it highly desirable as a place to see, be seen, and do business. You basically cannot step foot on the premise without rubbing elbows with an A-lister (Leonardo DiCaprio is a member, as is Nicole Kidman). As such, anyone who does have membership is extremely impressive and inviting a prospective manager to join you there for lunch may be indication enough that they need to get you on their roster. It won't come cheap, though; membership starts at $1,800 annually (thankfully, you don't pay all at once).
Hinoki & the Bird
Where: Century City
The draw: For a lightweight power lunch that won't break the bank, Hinko & the Bird is your go-to. With its mix of "new American" cuisine made with mainly Japanese ingredients, the Century City hotspot has been a popular locale for showbiz brokering since its opening in 2013. Its rustic and minimalist decor is inviting, while the sprawling outdoor patio is ideal for dining al fresco and celebration post-signing; reps from CAA and Fox can frequently be spotted in the space, along with stars such as Chelsea Handler and Chace Crawford. Popular lunch items include the lobster roll ($22) and the chopped salad with salami and chickpeas ($14).
The Palm
Where: Beverly Hills
The draw: Look, there's a reason why a given establishment becomes an institution and The Palm, which opened in 1975, is no exception. With its throwback clubby vibes—and a quality steak to match—the Bev Hills joint can put its money where its mouth is as an authentically old school spot to eat, drink, be merry, and make deals. It's also steeped in show business history, like the famous tale of Fred Astaire tap-dancing on the bar, as well as the apropos celebrity portraits that infamously adorn the walls. The Palm is also ideal for both the in-and-out one-hour luncheon or a more leisurely stay with friends and colleagues alike, stretched across an afternoon. When at The Palm, order the steak: Filet Mignon and Prime New York Strips start at $49, though there are also less pricey items on the menu for your dining pleasure including the shrimp salad ($17) and the linguine with clam sauce ($27).
Winsome
Where: Echo Park
The draw: From a restaurant that prides itself on "anti-coolness" to arguably the trendiest on this list, Winsome is the antithesis to The Palm's non-style. With its sleekly designed and thoroughly modern interior, the contemporary diner is a great place for a meeting if you're looking for laidback coolness that's simultaneously upscale enough to impress. In keeping with the vibe, the spot is frequented by industry stalwarts from all realms of television and film, as well as many musicians. Grab a seat at the bar for a quick eat-and-chat, or relax in one of the glossy booths or the outdoor patio while enjoying its bevy of American and Vietnamese fusion cuisines such as the grilled corned beef sandwich with cabbage slaw ($15), the decadent duck egg toast ($18), or the Winsome breakfast special, appealingly served all day ($14).
The Rose
Where: Venice
The draw: While Hollywood and Beverly Hills are both proliferated with powerhouse lunch spots, the pickings draw slimmer as you move out towards the city's edge. That just means you need to really know what's worth your time. Case in point: The Rose. Parked a stone's throw from the beach, this airy joint is regarded more for its dinner dining, but late breakfasts and lunch should certainly not be overlooked. With its original roots still intact (the restaurant opened in 1979) but a continually evolving menu thanks to the culinary stylings of world-renowned chef Jason Neroni, The Rose will check every box for a classy but inviting lunchtime meetup that's a bit outside of L.A.'s pulsing center. Best of all, almost every item on the menu is in the $11–$30 range and includes scrumptious bites, plates, and artisan pizzas.
Head over to Backstage's Los Angeles auditions to book a gig!