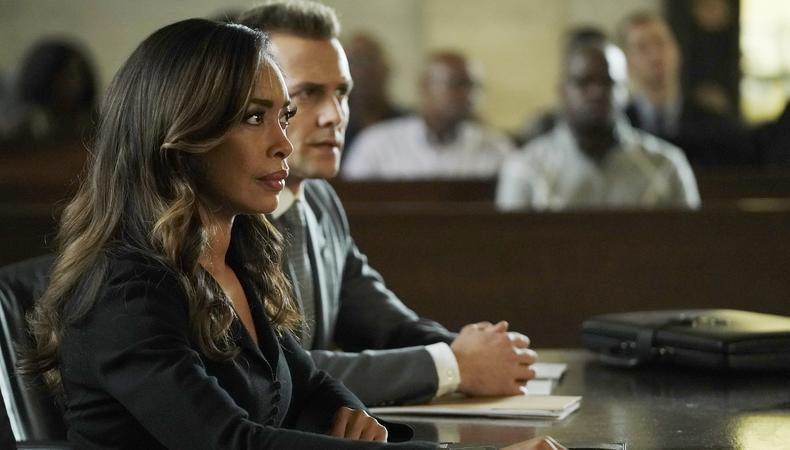 Hey, Los Angeles! Stay in the loop and be sure to check back every week for projects currently in production in the place you call home. Here's the 411 on what's filming big and small in your city.
"Suits" Spin-Off
The "Suits" spin-off is officially getting off the ground tonight! According to On Location Vacations, the series will be filming this evening into the early morning at 211 West Temple St. (the Conservancy Hall of Justice) and 506 South Grand Ave. (the Millennium Biltmore Hotel) in L.A. This comes one day after the news Bethany Joy Lenz, Chantel Riley, Isabel Arraiza, and Eli Goree will all join the series as regulars, alongside star Gina Torres. The currently untitled series will focus on Torres' Jessica Pearson, a powerhouse lawyer adjusting to the dirty world of Chicago politics. Fans of the original USA show will have to keep an eye out around the city as this starts its production!
"SEAL Team"
The "Suits" spin-off is not the only show gearing up for a late-night shoot tonight. CBS' "SEAL Team," starring David Boreanaz, will be shooting in L.A. tonight at 923 E 3rd St., starting at 9:00 p.m. and going to a planned 2:00 a.m. The second season premiere of "SEAL Team" will be airing Oct. 3, so this is likely some last-minute background work, but the night owls among you can head out if you're hoping to see some of the action! Risa Bramon Garcia is the casting director on the series. You can check out her key to success and her five things to know before stepping on a TV set at Backstage!