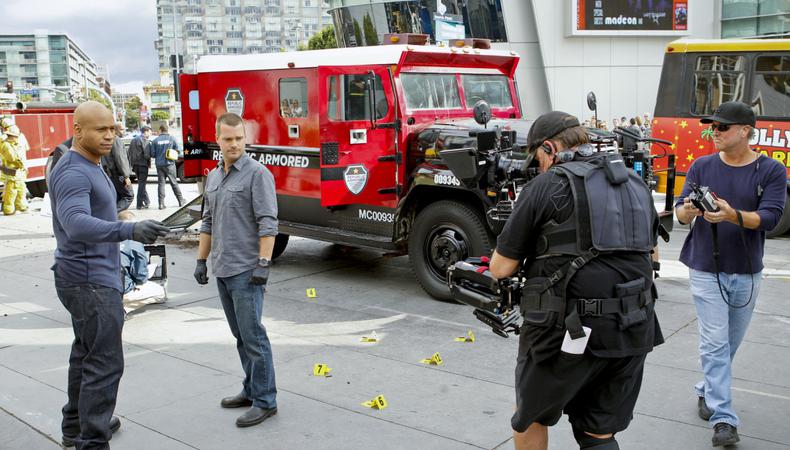 Filming in Los Angeles has not just gone back to pre-pandemic levels—it's hit a 26-year record high. According to FilmLA, which grants film permits in the county, filming had its third-strongest quarter in 26 years, with a total of 10,127 shoot days, occurring between July 1 and Sept. 30.
The previously held records for shoot days took place in the fourth quarter of 2018 (with 10,359) and the fourth quarter of 2016 (with 10,170).
Compared with the same quarter in 2020, there's been a 141.2% increase in shoot days. "The biggest takeaway from this report is that the pace of local production continues to increase," said FilmLA president Paul Audley in a statement. "The late-pandemic recovery is uneven in some ways, but community receptiveness to filming is steady, and the work opportunities are undeniably there."
This improvement is not the same across mediums, however. While television and commercials shoot days are now on par with pre-pandemic numbers, film shoots are still below pre-pandemic levels.
The TV shows that filmed in L.A. this past quarter include "SEAL Team," "NCIS: Los Angeles," "Mr. Mayor," "This Is Us," "The Rookie," "Home Economics," "Super Pumped," "Better Things," "Chad," "The Flight Attendant," "Made for Love," and "PEN15." It also included an untitled L.A. Lakers project from Showtime and the upcoming Netflix series "Monster."
The films that shot in Los Angeles recently were "Wild Chickens," "House Party 2," "Me Time," "Purple Hearts," "892," and an untitled Jonah Hill project.