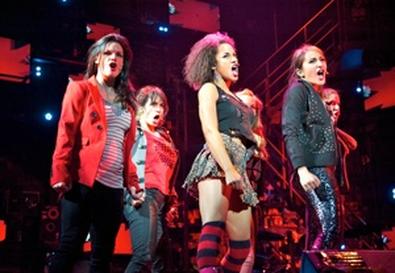 It's easy to spot the influences of certain groundbreaking rock musicals in "American Idiot," the boundlessly energetic 2010 Broadway punk-rock opera that was inspired by the smash 2004 Green Day concept album of the same name. Think "Hair," "Rent," "The Who's Tommy," and "Spring Awakening." Yet there's an invigorating sense of originality in what musician Billie Joe Armstrong of Green Day and director Michael Mayer have achieved in their loud and furious yet exuberant ode to disaffected youth in the wake of Sept. 11. Armstrong and Mayer's minimalist book, Green Day's rafter-blasting music, and Armstrong's ingenious lyrics coalesce into an enthralling whole. The musical is in shipshape form in this national touring edition.
As in "Spring Awakening," Mayer's knack is evident for telling a story about high-spirited youths as much through astonishing aural and visual effects, hyperkinetic dance, and eardrum-shattering music as through typical narrative. When the sounds emanating from music director–keyboardist Jared Stein and his kickass onstage band overwhelm the lyrics, Mayer's mastery of visual poetry and the cast's expressive portrayals pick up the slack, telling us what we need to know about the turbulent emotional journeys of these restless suburban kids. We observe how they cope with raging hormones, drug experimentation, and myriad anxieties about the world they live in and what their futures hold.
A terrific cast rises to the challenges of a show that thrives on perpetual motion, driven by Steven Hoggett's galvanic choreography and Mayer's relentlessly vibrant staging. Playing Johnny (referred to as "the Jesus of suburbia"), who leaves his small burg for the big city and embarks on a hedonistic pursuit of happiness, Van Hughes is a ball of fire, adroitly capturing the young man's zest for life and his dangerous appetite for excess. As St. Jimmy, a charismatic drug dealer, Joshua Kobak offers an intriguing mix of charm and sleaze. As Johnny's close pal Tunny, who impulsively joins the army and suffers serious injuries in Iraq, Scott J. Campbell projects a sweet vulnerability. In the role of Johnny's friend Will, who impregnates Heather (the fine Leslie McDonel) and wallows in depression, Jake Epstein is likewise affecting. Gabrielle McClinton is forceful and funny as Johnny's feisty girlfriend Whatsername. Nicci Claspell, as a nurse caring for Tunny who catches his fancy, shares an extraordinary dream sequence with Campbell that's best kept a surprise.
Christine Jones' industrial-style set—dominated by scaffolding and blaring TV monitors—evokes the proper mix of funk and high-tech, suggesting the stimulus overload of the information age that's engendered by media hype and endless gadgetry. Darrel Maloney's excellent video and projection design enhances this effect. Kevin Adams' wondrous lighting design properly imparts a rock-concert garishness.
A bona fide crowd pleaser, "American Idiot" should thrill Green Day fans while recruiting legions of new ones.
Presented by Center Theatre Group, Tom Hulce and Ira Pittelman, Work Light Productions, Vivek J. Tiwary, Latitude Link, Scott M. Delman, Allan S. Gordon, and MagicSpace Entertainment, in association with Abbie M. Strassler, John Domo, and Lorenzo Thione and Jay Kuo, at the Ahmanson Theatre, 135 N. Grand Ave., L.A. March 14–April 22. Tue.–Fri., 8 p.m.; Sat., 2 and 8 p.m.; Sun., 1 and 6:30 p.m. (Additional performances Thu., April 5 and 19, 2 p.m. No performances Sun., April 8, 1 p.m.; Wed., April 11, 6:30 p.m.; and Sun., April 22, 6:30 p.m.) (213) 972-4400 or www.centertheatregroup.org.