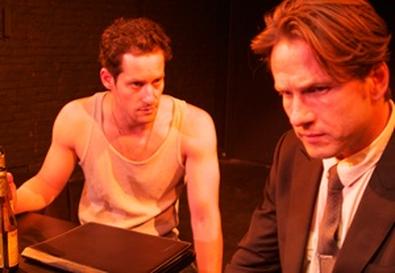 The stuff of Sarah Doyle's "Anaconda" is not for the faint of heart, and "school bullying" is too mild a term to describe the events of 17 years earlier that today push Phil Becker (Jonathan Roumie, completely mesmerizing) to kill an old classmate with a pickax. Doyle, who also directs, dives into dark and murky waters in her tale of guilt, shame, and the search for redemption, but she loses us along the way.
Martin Dingle Wall plays Matty, a prosperous lawyer who steps up to represent Becker. As Matty went to school with both Becker and the victim, his motives are suspect. Jordan Ballard is wonderful as Matty's truth-telling wife. More secrets are revealed when we meet Tove, another classmate (a superb Jeremy Glazer).
Doyle is a gifted writer who gives us a number of marvelous moments. Nevertheless, despite some amazing performances, "Anaconda" never quite coalesces.
Presented by Pink Oil Productions as part of the Hollywood Fringe Festival at Theatre of Note, 1517 N. Cahuenga Blvd., Hollywood. June 8–23. Remaining performances: Fri., June 15, 8 p.m.; Sat., June 16, 9:30 p.m.; Wed., June 20, 10 p.m.; Thu., June 21, 10 p.m.; Fri., June 22, 8 p.m.; Sat., June 23, 11 p.m. (323) 455-4585 or www.hollywoodfringe.org.