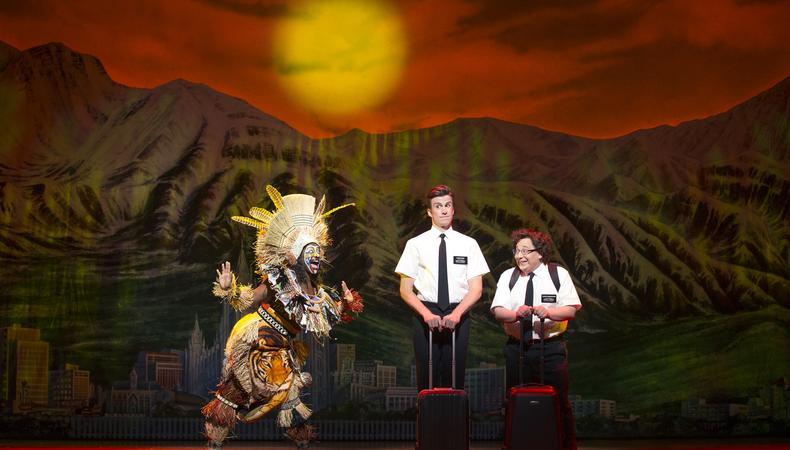 With a subversive chortle and a heart bigger than the Great Salt Lake, "The Book of Mormon" hits Los Angeles and triumphantly becomes the hottest attraction in town. The joyous West Coast premiere of Trey Parker, Robert Lopez, and Matt Stone's Tony-winning gusher doesn't just meet expectations; it tramples them. Neither Broadway musicals nor tuner devotees will ever be quite the same.
Part of the show's achievement is how its saga of two mismatched young missionaries sent to an AIDS-ridden, warlord-threatened Ugandan village tweaks religious dogma in general without denigrating genuine faith. From the opening number, "Hello!," with mega-smiling young elders spreading the word of the Church of Jesus Christ of Latter-day Saints to an insanely catchy polka, the show exudes irresistible irreverence. It's just warming up. The larger triumph is the authors' simultaneous send-up and embodiment of musical theater itself, delivered with the kind of toe-tapping, grin-inducing élan that defined the form long before "Glee."
Parker and Stone demonstrated their comprehension of this with the animated film "South Park: Bigger, Longer & Uncut." Here they're felicitously teamed with two experts in airborne antics: Lopez, the co-composer and co-lyricist of "Avenue Q," and Casey Nicholaw, who guided "The Drowsy Chaperone" to success and who choreographs and co-directs with Parker. The collaborators deftly weave direct references to "The Lion King," "The King and I," pop-culture icons, Mormon visitor-center dioramas, and Gower Champion's career—and that's just for starters—into a gleeful melee that proves unabashedly sweet-spirited, hysterical, and, almost miraculously, meaningful in the end. Designer Scott Pask's slick set pieces, Ann Roth's ultra-witty costumes, Brian MacDevitt's rich lighting, and Brian Ronan's smirking sound are of a cohesive piece, and the cast, glossily harmonizing under Stephen Oremus' music direction, is superb.
As self-deceiving golden boy Elder Price and honesty-challenged schlub Elder Cunningham, a never-better Gavin Creel and an intrepid Jared Gertner suggest a young Jimmy Stewart with soaring pipes—Creel's "I Believe" incinerates the house—and the bubbly lovechild of Miriam Margolyes and Allan Sherman. Gertner, supreme throughout, gets to explode in the Act 1 closer, "Man Up." But everyone is first-rate, starting with Samantha Marie Ware, touching, tickling, and clarion-voiced as heroine Nabulungi (surely the first ingénue in Broadway history to be threatened with female circumcision), grabbing every heart with "Sal Tlay Ka Siti." Kevin Mambo, as her blithely profanity-spouting father, and Derrick Williams, as the lethal general with an unprintable name, make hilarious tonal poles of straight-faced panache. As Elder McKinley, the priceless Grey Henson leads a sublimely unfettered passel of elders in "Turn It Off," a paean to repression that stops the show cold, a phenomenon that recurs repeatedly. Space limitations prohibit citing every performer, a touring troupe of unusually high quality.
At present in Los Angeles only "Silence! The Musical" even approaches "The Book of Mormon" for knee-slapping abandon. God speed its mirthful mission across North America and the globe.
Produced by Anne Garefino, Scott Rudin, Roger Berlind, Scott M. Delman, Jean Doumanian, Roy Furman, Important Musicals, Stephanie P. McClelland, Kevin Morris, Jon B. Platt, Sonia Friedman Productions, and Stuart Thompson at the Pantages Theatre, 6233 Hollywood Blvd., L.A. Sept. 12–Nov. 25. (800) 982-2787 or www.ticketmaster.com. Casting by Carrie Gardner.
Critic's Score: A+