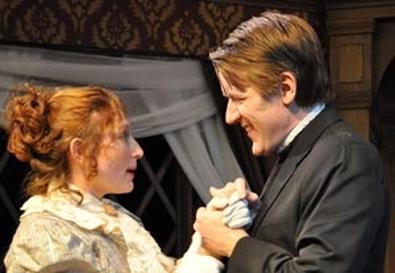 George Bernard Shaw's comedy, first published in 1898, remains among the master playwright's most widely accessible works. Though the piece encompasses Shaw's customary philosophical ruminations and heady political undercurrents, its sly romantic-triangle plot allows for more-basic theatrical pleasures. The intellectual layers of the erudite text dovetail smoothly with the crowd-pleasing qualities of a saucy romantic comedy. Director Andrea Gwynnel Morgan's astutely cast and reasonably polished production captures the charm and wit of this venerable classic.
In taking a look at the mutual duties and expectations in a marriage, Shaw gives a fair shake both to the masculine and feminine points of view. A moralistic London minister, Reverend James Morell (Casey E. Lewis), loves his freethinking wife, Candida (Molly Leland), but perhaps takes her for granted. Stirring up the pot is 18-year-old poet Eugene Marchbanks (Michael Uribes). In love with Candida, he sets out to win her heart and rescue her from what he perceives of as a life of servitude and neglect.
Lewis conveys the irritable qualities of the stuffed-shirt clergyman as well as his likability and the suppressed vulnerability of a man who's deeply in love. The qualities of impetuousness and immaturity in the lovestruck Eugene are illuminated in Uribes' captivating portrayal. The rivals are played with sufficient charm to make the competition intriguing. Leland looks lovely in stylish period costumes by Morgan and Courtney Sutton and radiates the poise, glamour, and spunk of a woman over whom men would fight. The other players (Robert Harlan Greene as Candida's opportunistic father, Adam Ferguson as a finicky curate, and Laura Lee Bahr as a repressed typist) offer capable support.
Aaron Morgan's attractive set emphasizes burnished-brown hues. The props and dŽcor credibly suggest a plush home in Edwardian England. Aside from occasional instances of line hesitancy, this is a worthy rendition of Shaw's still-resonant play.
Presented by Chrysallis Stage at the Flight Theatre at the Complex, 6476 Santa Monica Blvd., Hollywood. Feb. 16–March 11. Thu.–Sat., 8 p.m.; Sun., 7 p.m. (No performance Sun., Feb. 26.) (323) 960-7770 or www.plays411.com.