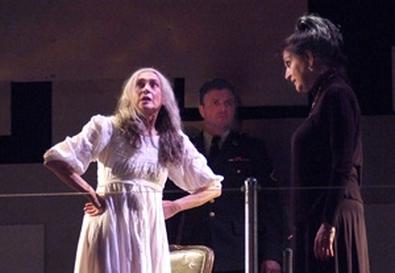 In "Charity," playwright-actor Evelina Fernández raises her own considerable bar, elevating the audience in the process. This third play in Fernández's epic trilogy about multiple generations of a Mexican-American family—the others being the still-unproduced "Faith" and the recently staged "Hope"—is as poetic, imaginative, and culturally accessible a work as anything since the commercial emergence of Tony Kushner.
Set in Los Angeles circa 2005, the narrative uses Pope John Paul II's death as a thematic hook—"Faith" and "Hope" similarly use FDR and JFK, respectively—to set off the emotional complexities of the Garcia family. After a symbolic establishing prologue, we meet Gina (Fernández), the nominal matriarch, who is watching the papal funeral. Valentina (Esperanza America Ibarra, endearingly direct), her daughter, cannot understand why a non-practicing Catholic family like theirs would care, even though she has to agree that the pontiff was a handsome man.
Hovering upstairs is Nana (the astonishing Ofelia Medina), 115 and counting, a century-straddling force of nature who refuses to die. Literally, as she communes in Spanish and English with the spirits of Silvestre (Sal López), the priest who was the love of her life, and
Emiliano (Sam Golzari), the Garcia scion, whose death in Iraq has left his mother intractably severe toward Nana, Valentina, and Rudy (Rudy Ramos), her no-less-bereaved husband.
Like the translation screens that frame François-Pierre Couture and Tesshi Nakagawa's sleek, bi-level set, "Charity" never goes quite where you think it will, bouncing from Gina's bereavement issues to the schism between the ancient traditions that Nana embodies and the Garcias' more disaffected modernity. Then sweet-spirited Juan Francisco (Jonathan William Cruz, a find), an undocumented Mexican relative, shows up on the Garcias' doorstep. To specify much more would be to deny viewers the pleasures of discovery.
Director José Luis Valenzuela deploys an intriguing approach, alternating slow-motion movement passages and highly charged, bilingual
dialogue back and forth between the two levels of the stage. Cameron Mock's bisected lighting and subtle videography are evocative, as are John Zalewski's prismatic soundscape, musical director Marcos Loya's live accompaniment, and Carlos Brown's costumes, and the cast is outstanding.
Medina, one of Mexico's most acclaimed actors, is at once grand and subtle, ribald and ethereal, as Nana, with delicious timing and mesmeric presence. Fernández underplays Gina, almost too much so, except her restraint makes the eventual meltdown doubly touching, just as Ramos' low-key consistency as Rudy and Ibarra's wryness as Valentina have unforeseen flashes of raw potency.
Cruz makes a virtue of simplicity as Juan Francisco, especially in his guileless embrace of American culture and the name "Frankie"; it's an utterly correct portrayal. Geoffrey Rivas brings his typical fizz to gay family friend Bobby; ditto Lucy Rodriguez as Betty, Gina's opposite-number sister, though the role could stand a tad more expansion.
López, who also plays their Vietnam-damaged brother Johnny, and Golzari as the fallen son have less action than atmosphere to convey, which they do with unhesitating finesse. That quality permeates "Charity," which, despite a few over-languid moments, has plenty to say and does so beautifully.
Presented by the Latino Theater Company at the Los Angeles Theatre Center, 514 S. Spring St., L.A. May 11–June3. Thu.–Sat., 8 p.m.; Sun., 3 p.m. (866) 811-4111 or www.thelatc.org. Casting by Rosalinda Morales and Pauline O'con.