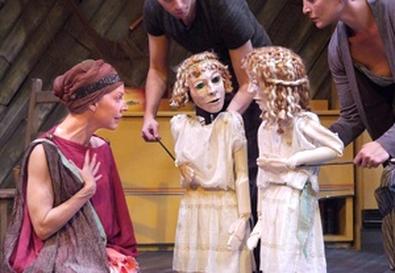 Sometimes attending a world premiere feels as though one is privy to theatrical history unfolding—definitely the case for Michael Elyanow's ethereal fantasy "The Children." Here one of "Medea" 's Women of Corinth steals her mistress's book of spells and teleports the endangered children of Euripides' antiheroine out of Corinth before their mother can wield her knife. The children, portrayed by Susan Gratch's life-size puppets, are conveyed to an Athens different from the one they knew in 431 B.C., landing in 2012 in a suburb of Athens, Maine, during a raging hurricane.
This is a noteworthy production in every regard, from Elyanow's brilliant poetry ("To mortal man, how great a scourge is love") and ingenious references to the characters' brave new world ("The sun has been harnessed!" shouts the handmaiden when the lights are switched on) to uniformly exquisite design elements and strikingly courageous, committed performances under the nurturance of director Jessica Kubzansky.
Adriana Sevahn Nichols and Jacqueline Wright, as the Woman of Corinth and the children's transported nurse, never question the broadness of Kubzansky's bold playing style, proving that nothing an actor attempts is too grand a risk as long as the words come from a place of supreme honesty. Daniel Blinkoff is remarkable as the town sheriff, who's convinced himself the strangers must be dressed for the neighboring Renaissance Faire, then tries to get them to flee to a school auditorium until the storm passes. Aside from an occasionally faltering Maine accent, Blinkoff is quietly compelling, especially in Elyanow's mesmerizing monologue ("I sense a soliloquy nears," the handmaiden says) about being frozen in awe as a python slowly crushes, swallows, and begins to digest a golden Lab named Bucky.
Sonny Valicenti and Paige Lindsey White create magic as the Man-in-Slacks and the Woman-in-Sundress, who remove the puppets from harnesses as they descend from above and literally breathe life into them. Placing their hands inside their backs and operating their arms with Thai puppet–like sticks, Valicenti and White voice and manipulate the children à la Timon in Taymor's "The Lion King." Gratch's puppets are captivating, with faces paying homage to the Mask of Agamemnon at Mycenae and fluid movements Valicente and White execute so well the inanimate kiddies become as real as their co-stars.
Elyanow and Kubzansky's message is loud and clear: "Some people survive," the Woman-in-Sundress observes near the end of the play. "Sometimes that's how the story ends."
Presented by and at the Boston Court Performing Arts Center, 70 N. Mentor Ave., Pasadena. May 12–June 17. Thu.–Sat., 8 p.m.; Sun., 2 p.m. (Additional performances Wed., May 23 and June 6, 8 p.m.) (626) 683-6883 or www.bostoncourt.com. Casting by Julia Flores.