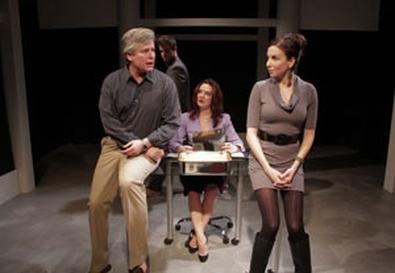 Jon Marans' latest play reaffirms the versatility of a scribe whose body of work has defied pat categorization. His finest to date have been "Old Wicked Songs," a heartwarming two-hander about a Viennese music teacher and his reluctant student, and "The Temperamentals," a brilliant exploration of a watershed era in gay-rights history. Now comes the provocatively titled "The Cost of the Erection," a sly and sophisticated portrait of marital strife that combines the scintillating wit of a Noël Coward drawing-room comedy with the darker undercurrents of an Edward Albee drama. Director Daniel Henning's stylish West Coast
–
premiere staging bristles with sardonic humor and startling character revelations.
A Manhattan raw-space condo is the setting for a story that uses the clever metaphorical conceit of building design and construction to illuminate the challenges that two couples face in rebuilding solid foundations for their shaky marriages. Wealthy heiress Susu (Robin Riker), a spoiled and manipulative press agent, forges a scheme to stir up her staid marriage to Mark (Michael E. Knight), whose career as an architect has been less than stellar. She challenges Mark and her new client, Rod (James Louis Wagner), a hotshot architect, to compete in creating designs for her condo. A number of intriguing details come to light, including a tragedy in Susu and Mark's past, an earlier resentment between Susu and Rod's wife, Brenda (Kal Bennett), and myriad reasons why both marriages have become strained. The script skillfully plays games with time and space, generating clever juxtapositions of dialogue and action.
Under Henning's sharp direction, the hilarious repartee is crisply effective, while the thoughtful reflections on more sobering themes ring true. Smart Shakespearean allusions add to the play's richness. Riker's characterization—half charming and worldly, half conniving—is driven by an irresistible flair. Knight deftly embodies Mark's mix of geniality and awkward social skills. Wagner finds humor in Rod's erudite and conceited rising-star architect. Bennett perfectly balances the toughness and vulnerability of a highly determined woman.
Cameron Zetty's tasteful set works wonders with the compact playing space, capturing the chic feel of the apartment and other locales. His lighting and Rachel Engstrom's costumes further enhance the mood.
Presented by the Blank Theatre Company at the 2nd Stage Theatre, 6500 Santa Monica Blvd., Hollywood. Feb. 11–March 18. Thu.–Sat., 8 p.m.; Sun., 2 p.m. (323) 661-9827 or www.theblank.com. Casting by Scott David, Erica Silverman, and Bob Lambert.