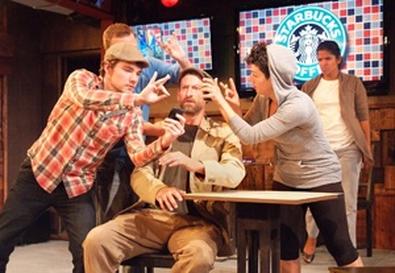 The most altered concept in "Cyrano," Stephen Sachs' new play "inspired by" Edmond Rostand's familiar classic, is that Troy Kotsur plays the title role without help from Max Factor. Playing a character so well-known that he no longer needs a last name, Kotsur's nose is of fairly normal size. Rostand wove his tale around the fact that Cyrano has a proboscis so enormous that it isolates him from the world and the attention of his beloved Roxanne, but in this version our hero is deaf and his intended is not, making the possibility of romance inconceivable to him. "Speak to her," his confidant, Bill (Bob Hiltermann), entreats. "And what?" Cyrano signs back. "Sound like a barking seal?"
Sachs has updated the story to modern-day L.A., where, despite declaring early on that he refuses to "enter the electronic age," Cyrano learns to text and email, even adding his Roxy (Erinn Anova) as a Facebook friend. Their meeting at Starbucks—which begins with a hilarious charade between a deaf patron ordering a latte from a troglodyte barista—is a difficult, clumsy encounter, until these two people from different worlds take out their iPhones and communicate in text messages.
Sachs and director Simon Levy have embarked on a major mission: bringing Rostand's poetry-spewing protagonist to life using ASL, spoken word, and e-language. Thanks to Jeffrey Elias Teeter's projections, flashed onto eight omnipresent monitors incorporated into Jeff McLaughlin's versatile bare-bones set, nothing is lost in this superbly crafted production besides a large tub of Derma Wax.
Kotsur is the heart of Sachs' clever and deeply moving revision. To convey Cyrano's trapped beauty and tortured frustration, José Ferrer used his magnificent voice to deliver the character's sweeping poetry. Kotsur uses his graceful hands, incredibly expressive face, and audaciously quirky body language that falls somewhere between Depardieu and Chaplin. It's a haunting performance, beautifully realized in the nurturing hands of Levy and complemented by a remarkable cast of deaf and hearing actors, some signing, some voicing the words of others. Paul Raci, himself a CODA (child of deaf adults), is exceptional as Cyrano's tattooed rocker brother Chris, who ends up bedding Roxy thanks to the flood of poetic emails directed to her from our hero. Like Kotsur, Raci bridges the gap between the tale's two worlds with poignancy and a huge dose of humor.
Presented by the Fountain Theatre and Deaf West Theatre at the Fountain Theatre, 5060 Fountain Ave., L.A. April 28–July 29. Thu.–Sat., 8 p.m.; Sun., 2 p.m. (323) 663-1525 or www.fountaintheatre.com.