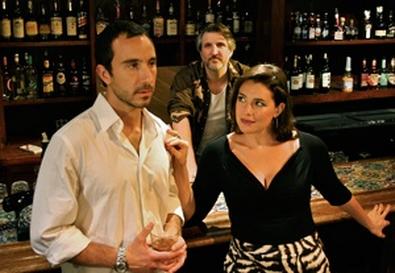 The expectation of dining in a restaurant as a murder mystery unfolds around you is nothing like what you get with Alex Goldberg's moody thriller "It Is Done." No one smokes a pipe or wears a rumbled raincoat, and Mrs. Peacock never enters the dining room with a dagger. Instead, Goldberg's darkly twisted yarn unfolds in the back room of the 1927 Spanish-gothic Hollywood landmark Pig 'n Whistle, the setting of a desolate bar "off Route 193, 98 minutes from anywhere," where three of society's anguished miscreants are forced together.
Ruby (Catia Ojeda) and Jonas (Andre Tenerelli) take refuge during a raging sandstorm in the ramshackle watering hole, where owner Hank (Michael McCartney) usually has no company whatsoever besides his left hand and a tattered copy of "Hustler." Jonas is running to escape a recurring nightmare, the kind "like that itch in the small of your back you can't reach." Ruby supposedly is stranded because of a car breakdown, but as the story unfolds, so does her real purpose for being there. Under Michael Michetti's adroit direction in an incredibly cramped space—especially when Chardonnay-tipsy patrons move their chairs closer to the action, presumably to share the attention of the stage lighting—the play bends from a gritty Sam Shepard treatise on bourbon-swilling social outcasts to a Rod Serling script for an old "Twilight Zone," complete with Hank Williams and his twanging guitar whining away on an ancient jukebox.
McCartney is the most interesting actor to watch, his wife-beater-clad Hank just icky enough to love, but neither of the others has a clue to the meaning of the term "character arc." Tenerelli is monotonously miserable in his tortured delivery no matter what befalls Jonas, and Ojeda, who has the brassiness and strength needed for Ruby, never alters her smugly smiling delivery when Ruby is exposed as someone—or something—quite sinister. Still, Goldberg's delightfully creepy play is a little gem, and Michetti has the impeccable style and imagination to make it work, especially in a history-soaked room with a few tales of its own to tell—including hosting the first Academy Awards after-party and Judy Garland's 15th birthday. The only thing hampering the production is the casting, which gives this reviewer the same kind of itch in the small of the back that plagues poor Jonas.
Presented by 22Q Entertainment LLC and GO AlleyCat Productions at Pig 'n Whistle, 6714 Hollywood Blvd., Hollywood. May 15–June 12. Mon. and Tues., 8:30 p.m.; Sun., 7 p.m. www.itisdonetheplay.com.