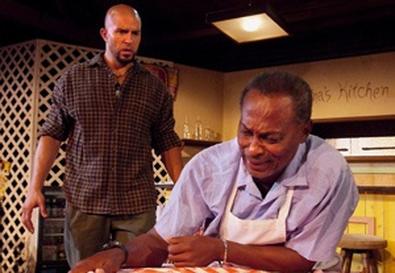 Though "Elmina's Kitchen" had its American debut at Baltimore's Centerstage in 2005, it's just now receiving its West Coast premiere. Playwright Kwame Kwei-Armah's examination of West Indies–born blacks who emigrated to England, as well as their British-born progeny, is close in spirit to August Wilson's famed "Pittsburgh Cycle" dramas while echoing the likes of "A Raisin in the Sun" and "Master Harold…and the Boys."

The play's primary character, Delroy, known as Deli (Terrell Tilford), lives above and runs Elmina's Kitchen, the restaurant created and built by his now-deceased mother in the London borough of Hackney. From his pronounced limp and stoic expression, we surmise that he carries physical and emotional scars. Two reasons may explain the café's lack of customers: The name "Elmina" carries the bitter association of Ghana's Elmina Castle, where black slaves were bought and sold during the 17th century. More likely is that the café is the daily hangout of Deli's friend Digger (Noel Arthur), a loud yet laid-back West Indian gangsta who extorts protection money from the neighborhood's businesses.

At first the story's tensions are confined to Deli; his son, Ashley (Aaron Jennings); and his dad, Clifton (Basil Wallace). The connections among them are deliberately tenuous to illustrate the disintegration of the family unit. Nevertheless, we need more specifics that show how Deli, Ashley, and Clifton's interactions either bind them closer or pull them apart. Though Deli's fervent desire to hold the family together is doomed from the start and thus tragic, it's underemphasized. Several factors thwart romance between Deli and new waitress Anastasia (Tracey A. Leigh), who is a catalyst for conflict among several characters. The resulting skirmishes contribute to a final, bitter showdown between Deli and Digger and a heart-wrenching and wholly unexpected climax.

Kwei-Armah paints a detailed picture of an almost insular community: its people, their cultural and ethnic heritage, and their specific argot (well elicited by dialect coach Deborah Ross-Sullivan). Director Gregg T. Daniel's feel for the material yields a lifelike portrait of unrelieved external strife and inner conflicts. Tilford's Deli is serious, fastidious, and sensitive. Arthur makes Digger, Deli's polar opposite, strangely winning, precisely because he doesn't apologize for his criminal ways. Wallace similarly makes the alcoholic, ne'er-do-well Clifton colorful and ingratiating. Jennings' Ashley is a cheeky teen, treating adults as equals while using Digger-like tough-guy bravado to defy his father. Leon Morenzie's Baygee, Clifton's cheerful pal, is a more successful, better dressed version of Clifton. As the story's fulcrum, Leigh captures the subtleties of Anastasia's character and the complexities of her interactions with Deli, Clifton, Ashley, and Digger.

Set designer Gary Lee Reed's credible café is aptly modest and shabby. A. Jeffrey Schoenberg's costumes speak volumes about each character, and Michael Gend's lighting and David B. Marling's sound provide crucial visual and aural shadings. An opening-weekend performance showed that proper pacing and the cast's mastery of the script had not yet been achieved, factors that will presumably be corrected during the run.

Presented by Lower Depth Theatre Ensemble at the Lost Studio, 130 S. La Brea Ave., L.A. Aug. 11–Sept. 9. Fri. and Sat., 8 p.m.; Sun., 4 p.m. (323) 960-4451 or www.lowerdepththeatreensemble.org. Casting by Eileen Mack Knight.