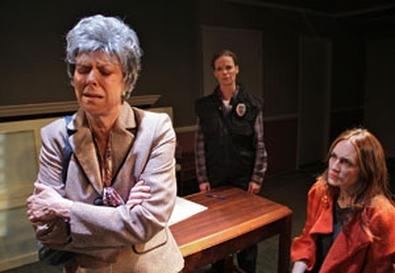 In his 2008 play "Four Places," playwright Joel Drake Johnson offered a deeply affecting portrait of a family mired in communication problems while harboring startling secrets. The same description fits Johnson's 2004 "The Fall to Earth," a dark comedy that isn't as compelling as "Places," though it provides a strong vehicle for three female actors. In director Robin Larsen's superbly crafted rendition, JoBeth Williams makes the most of the focal role of Fay, an extraordinarily eccentric matriarch who's part Amanda Wingfield and part Faye Dunaway in "Mommie Dearest." Subtler roles are expertly handled by Deborah Puette, as Fay's fed-up married daughter, Rachel, and Ann Noble, as a kindly police investigator.
The play opens in a generic-looking motel room in an unspecified Middle American burg. We aren't initially sure why homebody Fay—for whom a brief trip and a stay in this motel feel like a luxury vacation—and her long-suffering daughter are on this excursion. By the time we learn that they have come to identify the corpse of Fay's suicidal 30-year-old son (Rachel's brother), Fay's seemingly harmless peculiarities begin to feel closer to self-absorption and insensitivity. The script moves from sitcom rhythms to a seriocomic sensibility, leading to a sweetly ethereal conclusion, but takes too long to state its key thematic concerns. The appealing parts don't add up to a cohesive whole.
Thankfully, Williams is an actor with intelligence and great range, and when the backstory finally unfolds, she melds humor and heartbreak to mesmerizing effect. As the near-stoic Rachel, Puette provides a good foil to the more flamboyant Fay. The actor deftly conveys emotional transitions and character nuances as Rachel reacts to the ostentatious behavior of her chatty mother. Noble excels as a well-meaning public servant attempting to offer comfort to the women during a time of need and finding herself pulled into their dysfunctions. Ian Littleworth makes a brief but crucial nonspeaking appearance.
Tom Buderwitz has designed a remarkably authentic-looking motel-room set, which is smoothly converted to a police station for one scene. Jocelyn Hublau Parker's costumes hit the mark, particularly a bargain-basement dress that the working-class Fay describes as her latest purchase from J.C. Penney's.
In the end, it's the impeccable acting—particularly from the astonishing Williams—that makes this production worthwhile.

Presented by and at the Odyssey Theatre Ensemble, 2055 S. Sepulveda Blvd., L.A. Feb. 11–April 1. Schedule varies. (310) 477-2055 or www.odysseytheatre.com.