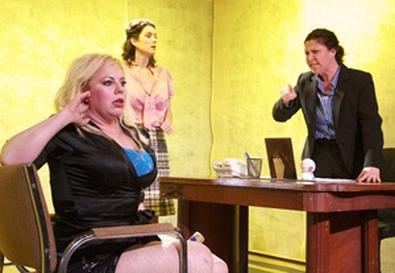 Phinneas Kiyomura's ambitious "Figure 8: The Seven Deadly Sins Plays," a Theatre of Note world premiere, explores the human capacity for falling from grace and considers myriad factors in our lives that can lead to moral transgressions. Eschewing a judgmental view of the sinners who populate this episodic series of intertwining tales, Kiyomura offers portraits of morally conflicted denizens of suburbia. The eight vignettes take place in various communities on the outskirts of Los Angeles. Blending poignancy and bawdy humor, the play is engrossing and provocative.
The best segment, set in a Glendale office, focuses on Christy (Kirsten Vangsness), a brassy part-time clerk; co-worker Martha (Gina Garcia Sharp), who reports Christy's lackadaisical work habits; and stern employer Jessica (Michelle Gardner), who reprimands Christy. There's more than meets the eye in these office relationships. Nobody plays audacious better than Vangsness, who prances around with a criminally short skirt, the gait of a stripper, and arrogance emanating from every pore. The character also appears briefly in two other segments, but it's in the office scene that Vangsness gets to let it all hang out in a sidesplitting portrayal that turns chilling.
The most affecting vignette takes place in a church in Santa Ana, where a clergyman's son, Grayson (Justin Brinsfield), counsels Allen (Carl J. Johnson), who has a brain-damaged wife (Gardner). Allen confesses to adultery and other transgressions that occurred when he was disappointed with his family life, and Grayson resorts to some unorthodox measures of comforting. The interactions between Brinsfield and Johnson are riveting, and the episode packs a punch.
Among other highlights are a piece about an opportunistic man in La Mirada (a brilliantly creepy turn by Brad C. Light), who pimps out his girlfriend (Vangsness) to a Mormon man (the superb Trevor H. Olsen), recording their exploits to create a porn video; two segments featuring Alex Elliott-Funk as a distraught singer-songwriter in Silver Lake; and the startling and funny closing monologue in which Eleanor van Hest pulls out the stops as a teacher delivering a shocking address to her class in Hollywood.
The production is greatly enhanced by Bryan Maier's amazing video and David Chitwood's graphics. Both efforts impart a high-tech ambience that frequently heightens the drama. Matt Richter's exemplary lighting adds to the triumph of mood, as does Maier's sound.
The script is challenging and intriguing, though the linking of characters and incidents among the segments could be more clearly delineated.
Presented by and at Theatre of Note, 1517 N. Cahuenga Blvd., Hollywood. Feb. 24–March 24. Fri. and Sat., 8 p.m.; Sun., 7 p.m. (Additional performance Thu., March 1, 8 p.m.) (800) 838-3006, (323) 856-8611, www.brownpapertickets.com, or www.theatreofnote.com.