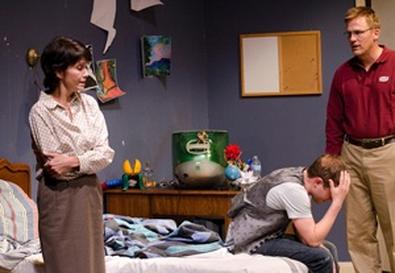 Though it's modest and unpretentious, Paul Elliott's comedy-drama "Finding the Burnett Heart" is one of the best plays to come along in some time. However, there's no way to talk about it without being a spoiler, so be forewarned. Though we don't find it out till midway through Act 1, this is a coming-out tale, as well as a family story embracing three generations, an examination of volatile father-son issues, and a probing exploration of the collision between homosexuality and fundamentalist religion.
17-year-old Tyler Burnett (Joel Johnstone) is dismayed when he finds himself unexpectedly having to share his room with his elderly grandfather James (James Handy). The old man accidentally set fire to his kitchen, rendering his house unlivable, so he must move in with Tyler's parents, Robert (Jeff L. Williams) and Grace (Colleen Renee McGrann). When Tyler's sanctuary is invaded, he and his opinionated, bullying granddad are instantly, violently—and sometimes hilariously—at odds, driving Grace to go on strike and refuse to cook for them. (When crossed, she retaliates by serving up liver and okra.) At first, Tyler seems to be an engaging, typical teenager, but James' relentless homophobia provokes him to reveal his own homosexuality and set off a family explosion.
Grace is a devout fundamentalist Christian who has prayed and worked endlessly to overcome her own trials and be what she considers a good woman. She expects to be rewarded for her virtue, so in her eyes Tyler's homosexuality is a betrayal. Her first response is to demand, "How could you do this to me?," attacking her son both verbally and physically. Tyler is devastated, and the easygoing Robert is shocked and appalled. What follows is an eye-opening education for them all.
Elliott's characters are richly observed, viewed with affection, generosity, and a sharp eye for comedy. None is reduced to stereotype, and Grace's intolerance is all the more disturbing because she's utterly sincere and her anguish is real.
As Tyler, Johnstone provides charm, wit, and conviction, while Handy neatly reveals the basic goodheartedness of the cantankerous granddad, making their scenes together touching and funny high points. Williams makes credible the tolerant, loyal, likable Robert, who seems almost too good to be true, and McGrann etches an indelible portrait of a woman whose fanatical religion has merged with her egotism to blind her to human feelings.
Jeremy Aldridge's direction elicits fine work from his impeccable cast and illuminates the play without calling attention to itself. Andrew Menzies' set is handsome, modest, and convincingly lived-in.
Presented by Theatre 48, Jennifer Schwartz, and TKS Productions at Elephant Stages, 6322 Santa Monica Blvd., L.A. April 20–May 27. Thu.–Sat., 8 p.m.; Sun., 3 p.m. (323) 960-7792 or www.plays411.com. Casting by Patrick Baca.