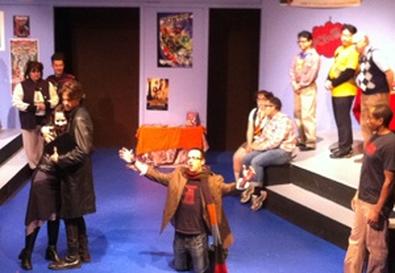 Every summer, the San Diego Convention Center packs in thousands of comic-book collectors, gamers, television fanatics, and sci-fi devotees during Comic-Con, the four-day convention that has developed a reputation as a geek mecca. Thomas J. Misuraca and Ruth Judkowitz's musical is a sometimes sweet ode to that gathering of the socially awkward set, but the jokes too often feel like ones we've heard before.
Buddies Jordan (Jonathan Brett) and Chip (Tyler Koster) commit to a busy day of "Dr. Who" panels and stack sifting, but then Jordan is distracted by Kerry (Redetha Deason), one of the few females at Comic-Con. At turns illuminating and nearly thwarting the budding love story is a cast of stereotypical characters, including a washed up sci-fi actor peddling autographed photos (Richard Lewis Warren), a malcontent Dungeons and Dragons freak (Wil Bowers), and a sneering goth girl (Juliette Angeli).
Some of the songs elicit genuine laughs, including "A Girl at Comic-Con" and "Love on the Dealer Room Floor," and Judkowitz, serving as her own musical director, plays decent accompanying piano throughout. Deason and Angelia are the strongest singers in a cast of so-so vocalists. In the end, the show fails to do anything fresh with geek parody, and the characters feel hollow.
Presented by Write Act Repertory, in association with Musical Geek Productions, at Write Act Repertory, 6128 Yucca St., Hollywood. March 1–17. Thu.–Sat., 8 p.m. (323) 469-3113 or www.plays411.com.