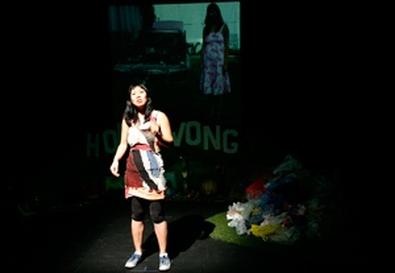 When I first heard about writer-performer Kristina Wong's solo eco-comedy, I thought it was called "Going Green the Wrong Way"—and it turns out I wasn't entirely wrong: Wong regales us with hilarious mishaps that resulted from her misguided attempts to save the planet. As an 11-year-old incipient eco-terrorist, she tried to serve the environment by badgering others—unsuccessfully—into going green. (At this point in the performance, she asked all those who drove to the theater in an SUV to stand up, then castigated them for their egregious contempt for the planet.) Later, seeking a green job, she found herself selling memberships to an environmental protection group. She was trained in door-to-door sales techniques that would embarrass an encyclopedia peddler. During her unpaid training period, she sold a lifetime membership for $1,500, but because she was in training, she received no commission—and her later efforts were less productive. She was finally fired for sinking sales figures and dry-humping a male colleague in Golden Gate Park.
Ever eager to conserve, she bought a 25-year-old bubblegum pink Mercedes converted to run on recycled vegetable oil. Obtaining sufficient quantities of oil proved difficult and seriously expensive. She had to abandon the car after it caught fire on the 405 freeway, forcing her to flee the vehicle and costing her $300 to have the wreckage towed away. After the demise of the Mercedes, she decided to go carless, and she rather unconvincingly argues that not owning a car can have real advantages—such as having a permanent excuse for turning down unwanted invitations. (One of the evening's biggest laughs greeted her claim that the L.A. transit system is simple and easy to navigate.) But her funniest and most outrageous sketch is a pep talk about the benefits of recycling sanitary pads. She tells us far more about feminine hygiene than most men would want to know, if she weren't so funny.
Wong is an energetic, witty, uninhibited performer, and with the assistance of director Paul Tei, she has produced a seamless, sure-fire comedic turn.
Produced by and at the Bootleg Theater, 2220 Beverly Blvd., L.A. June 28–July 22. Thu.–Sat., 7:30 p.m.; Sun., 3 p.m. www.bootlegtheater.org.