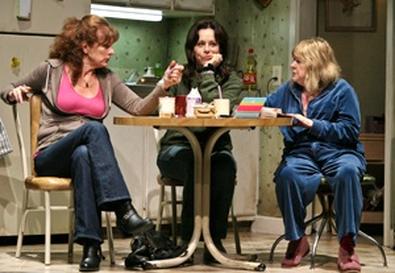 Class and its contradictions form the trenchant core of David Lindsay-Abaire's wondrously well-crafted 2011 study of two lifelong friends from South Boston whose uneasy reunion reveals profound reversals. This seriocomic gem from the author of "Rabbit Hole" and "Fuddy Meers" makes its socioeconomic points through conflict and character, as its magnificent Los Angeles
–
premiere production memorably demonstrates.
Lindsay-Abaire drop-kicks the audience directly into the cultural context at the outset. "She ever tell you the turkey story?" protagonist Margie (Jane Kaczmarek, beyond praise) asks her boss, dollar-store manager Stevie (the excellent Brad Fleischer), sensing impending termination because she's late yet again. Regaling Stevie with a well-worn neighborhood anecdote concerning his late mother doesn't work, so Margie moves from amiable defensiveness to aggressive desperation in a tersely funny and urgent expository scene that subtly sets up Lindsay-Abaire's ironies.
As designer Craig Siebels' superb set moves from loading dock to cramped Lower End apartment, Margie's landlady Dottie (Marylouise Burke, delirious as ever) and crony Jean (Sara Botsford, atop her game) parse the earlier events while supplying more key details. These include Mike (Jon Tenney, never better), Margie's childhood pal (and brief high school fling), now a doctor ensconced in swanky Chestnut Hill with Kate (Cherise Boothe, spot-on), his younger, African-American wife, whose Act 2 advent brings the central tenets into unforgettable bas relief.
Director Matt Shakman's typically expert way with telling details of gesture and niceties of execution is in full flower as he brings the nuances of this parable to the forefront with an invisible hand. His other designers—E.B. Brooks (costumes), Elizabeth Harper (lights), and Jonathan Snipes (sound)—are equally adroit.
Burke's ability to riotously dither with a dank undercurrent works like gangbusters for Dottie, while Botsford gives tell-it-like-it-is Jean a rich bluntness that nears Melissa Leo territory. Fleischer digs deep beneath the deceptively functional surface of Stevie, and as Kate, the play's eventually revealed moral compass, Boothe traces an unforced spiral of acute reaction that almost steals the show.
I say almost because Kaczmarek, whose comedic gifts are grounded in the poignancy of a great tragedian, and Tenney, working first with and then against his innate charm with absolute investment, inhabit Margie and Mike with an unwavering honesty that is riveting. So in its offhanded way is "Good People," a miniature masterwork of the comedy-drama genre.
Presented by and at the Geffen Playhouse, 10886 Le Conte Ave., L.A. April 11–May 13. Tue.–Fri., 8 p.m.; Sat., 3 and 8 p.m.; Sun., 2 and 7 p.m. (310) 208-5454 or www.geffenplayhouse.com. Casting by Phyllis Schuringa.