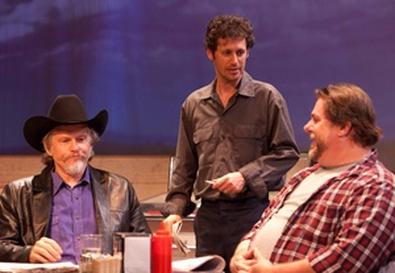 Rogue Machine Theatre's West Coast premiere of "Where the Great Ones Run" begins with an old man spouting musings about life to a character named Buddy. Buddy responds, "What's the point?" Putting that question in the audience's mind at the beginning of the play is a dangerous move: As the show lumbers along, it's hard not to start wondering the same thing. The production gets off on the wrong foot, and though the actors make strong efforts to steer it in the right direction, it never fully recovers.
The play takes place in a small-town Indiana diner run by the Burl family: Marylou, her daughter Julie, and her brother-in-law Buddy. Sonny Burl, her estranged husband, is a country star who hasn't been around for five years. When Sonny returns to town to play a farewell concert, he visits the diner to attempt reconciliation with his family. Although that story has the potential to be heartwarming, the writing fails and the acting can't save it.
Playwright Mark Roberts' background is in sitcom writing, and unfortunately, his style does not translate to theater. The jokes are cheesy, whole scenes and characters are inserted only for laughs or shock value, and the pacing feels intended for TV cameras. Mark L. Taylor's direction doesn't help the choppy pacing. Serious scenes are rushed through before they can make an emotional impact, and funny moments aren't always paced to allow the audience time to laugh.
The script gives the actors an impossible challenge: The characters carry longstanding grudges against one another and yet, inexplicably, are open with their feelings and perfectly willing to talk; they don't interact as real people would, so the best actors in the world couldn't make these characters feel human. This ensemble does its best, with mixed results. As Marylou, Holly Fulger lets sympathetic vulnerability show through her character's tough, jaded façade; her performance is understated and powerful. Jeff Kober gives country star Sonny a believable mix of charm and grittiness. Though he isn't a real musician, his singing and guitar picking are lovely. Jennifer Pollono deserves credit for bringing sincerity to the role of Kylie, a perky diner employee. Her scene with Marylou toward the end of the show is one of the few moments of genuine feeling. Other actors struggle for purpose and direction. As Julie, Lily Holleman's constant state of anger feels monotonous. The performance of Mark St. Amant, as Buddy, suffers when he recovers from drunkenness with miraculous quickness and when he has hesitant reactions to family tragedy.
The show's real star might be Keith Mitchell's beautiful set, which exactly replicates a roadside diner, right down to the ketchup bottles. It is so perfect that Adam Flemming's background video projections, though cool, just gild the lily. Christopher Moscatiello's sound design, with country classics crackling over the jukebox, is similarly authentic and endearing.
A welcoming diner, a few nostalgic country tunes, and a handful of skilled performances give this play pleasant moments, but the writing falls short, and the point of it all never becomes clear.
Presented by Rogue Machine at Theatre/Theater, 5041 W. Pico Blvd., L.A. May 26–July 15. Fri. and Sat., 8 p.m.; Sun., 3 p.m. (855) 585-5185 or www.roguemachinetheatre.com.