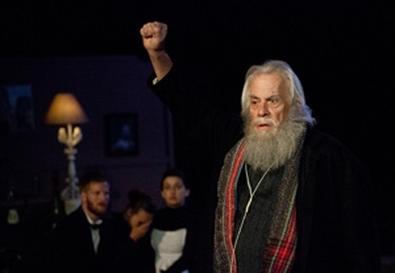 After opening with a revisionist '60s "Measure for Measure" that entertainingly served the Bard, the forces at Theatricum Botanicum take on "Heartbreak House" and serve George Bernard Shaw even better. Shaw's deathless 1917 allegory about British socioeconomic factions heedless of the impending world war enjoys a wonderful revival, Chekhovian in tone, Shavian in attack.
This is key, as "Heartbreak House," subtitled "A Fantasia in the Russian Manner on English Themes," was inspired by the great Russian playwright. We are in Sussex, circa 1914, at the title dwelling, a metaphor for the English national psyche where ambiguous characters echo Anton Chekhov's hapless humans in asking questions that have elusive answers.
We first meet houseguest Ellie Dunn (Willow Geer, ideally cast), invited to mull certain matrimonial prospects conjoined to her ruined family fortunes. She soon runs comically afoul of eccentric Captain Shotover (a perfectly pitched William Dennis Hunt), an ancient ex-mariner whose bluntly witty tongue is countered by those of his daughters. Hesione Hushabye (the superb Melora Marshall), his eldest, is the de facto hostess, living at her father's home along with Hector (Mark Lewis, delightfully unconventional), her roving-eyed husband, and Nurse Guiness (Katherine James, a hoot), the family's gimlet-eyed concierge.
Ariadne Utterword (Susan Angelo, having a field day), Hesione's younger sister, returns today, 30 years since she married into upper-class respectability to escape the bohemian aura at home. In tow is Randall Utterword (Aaron Hendry, marvelously loopy), her smitten brother-in-law, while Ellie's coterie includes her bankrupt father, Mazzini Dunn (slyly understated David Stifel), and her suitor, Boss Mangan (Alan Blumenfeld, made to order), the industrial tycoon responsible for bankrupting him. More than one romantic and philosophical intrigue emerges and/or reverses before Shaw's treatise lands in the person of a supposed burglar (Ed Giron, dead-on) and an ominously lighted-up sky.
Director Ellen Geer treats this imposing property with light-fingered comprehension of its requirements, the dialogue cascading with immediacy, here briskly hilarious, there wistfully aching. She has assets in the verdant outdoor venue and the sterling cast, who sport Val Miller's elegant period costumes like a second skin.
Everyone has the measure of his or her role. Take Hunt, whose every pronouncement crackles and tickles as Shotover, or Geer, whose fluting timbre and reactions are delicious as Ellie, or Angelo, heartfelt beneath the arch façade as Ariadne. Hendry and Lewis bring novel shadings to Randall and Hector, respectively, and Blumenfeld's native bombast totally suits Mangan. Still, the standout is Marshall, already having a banner summer, who inhabits Hesione with a merger of confidence and vulnerability not witnessed in the role since Rosemary Harris.
It's a long play that nearly loses steam by the last act, yet the players keep igniting the trenchant ideological kindling of this thoroughly satisfying Shavian treat.

Presented by and at the Will Geer Theatricum Botanicum, 1419 N. Topanga Canyon Blvd., Topanga. June 9–Sept. 30. Schedule varies. (310) 455-3723 or www.theatricum.com.