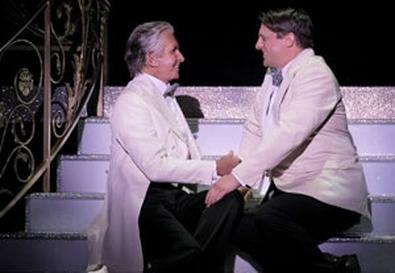 London's Menier Chocolate Factory's 2007 reincarnation of the hit 1983 musical from Harvey Fierstein (book), Jerry Herman (music and lyrics), and Arthur Laurents (director-dramaturge) may not be the gaudiest ever staged, but it has a lot of panache, enough to snag three 2010 Tony Awards, including best revival of and best direction of a musical. Now that it has hit the road, many more of the show's fans will have access to the winning combination of George Hamilton, as Georges, and Broadway vet Christopher Sieber, as Albin. The men generate a mild charge, making them more akin to a comfortable married couple than to one still in the heat of smoldering passion. Part of this may be Terry Johnson's even-handed direction, but a good deal of the explanation must lie with the cavernous Pantages Theatre, which swallows up all but the most overt emoting.
Sieber's Albin is, like his predecessors, fussy and ultra-feminine, but less outré. What results may seem more lifelike, but it also waters down the delicious contrast between sensitive "wife" Albin and his sensible, protective "husband." The handsome, smiling, deeply tanned Hamilton is a matter-of-fact yet lightly humorous, quizzical Georges. Although 72, the actor is agile, light on his feet, and wholly ingratiating. Hamilton retains his patented easygoing, Cary Grant–like charm, never once forcing things or distancing himself from his role, making Georges the low-key, er, straight man of the duo. Hamilton and Sieber's scenes together generate credible warmth as well as laughs. "Song on the Sand," Georges' serenade to Albin, is romantic and very French; by contrast, Georges' attempts to teach his partner to act more macho only ramp up Albin's effeminacy, to good comic effect. Sieber also gets laughs whenever Albin's voice suddenly drops into a deep baritone, shocking anyone around him who thinks he's a girl.
The show's drag humor is broadly played but delivered with a deft touch. The six actors portraying Les Cagelles are skilled gymnasts who execute numerous impressive moves in their various dances, including flips, whirls, and somersaults, a tribute not only to the sextet's talents but also to Lynne Page's choreography and Christophe Caballero's work as dance captain, in conjunction with his assistant, Matt Anctil, who portrays Angelique.
One of the few supporting players to stand out is Jeigh Madjus, as Jacob, the couple's butler, who prefers to be called a maid. Jacob's bizarre traits include a high, cackling laugh, doglike barking, and other strange yet memorable behavior. In the thankless role of Georges' son, Jean-Michel, Michael Lowney mistakenly soft-pedals the character's self-centeredness, overcautiousness, and insensitivity. Allison Blair McDowell fares far better with her portrayal of Anne, his intended, as demure, graceful, and tolerant. As Anne's conservative parents, Bernard Burak Sheredy and Cathy Newman could create more tension by accentuating their characters' narrow-mindedness, making the moralistic politician's comeuppance all the more enjoyable.
While none of the musical numbers can be said to be genuinely stunning, all are smoothly and pleasingly handled, with a solid account of the score being given by the onstage nine-piece orchestra—located in the small balconies above the entrances at each side of the stage—under keyboardist Joey Chancey's music direction. The rousing song "The Best of Times" is sentimental and triumphal, and all of Sieber and Hamilton's numbers are expertly staged. The visuals—Tim Shortall's scenic design, Matthew Wright's costumes, Richard Mawbey's wig and makeup designs, Nick Richings' lighting—create the proper ambiance and sensibility for this ageless show.
Presented by Sonia Friedman Productions, David Babani, Barry and Fran Weissler, Networks Presentations and Edwin W. Schloss, Robert/Beverly Bartner and Norman/Alice Tulchin, Broadway Across America, Matthew Mitchell, Independent Presenters Network, Nederlander Presentations, Harriet Newman Leve, and Allen Spivak, in association with George Hamilton Productions, at the Pantages Theatre, 6233 Hollywood Blvd., L.A. July 11–22. Tue.–Fri., 8 p.m.; Sat., 2 and 8 p.m.; Sun., 1 and 6:30 p.m. (323) 468-1770,
www.broadwayla.org
, or
www.lacage.co
m. Casting by Duncan Stewart and Company.