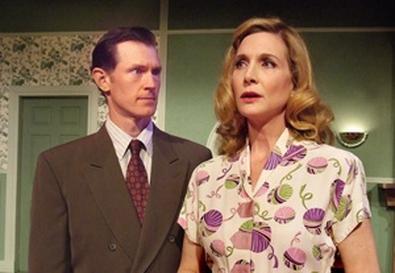 "Laura," adapted for the stage by Vera Caspary and George Sklar from her novel, was first produced in 1944, the same year that Otto Preminger's famous film version was released. In the fashion of the time, the play depends largely on talk and ponderous exposition to launch its complicated plot. Director David McClendon has assembled a handsome and entertaining production, but he allows most of his actors to turn in plain-vanilla performances, without the intensity and danger that would generate real suspense.
When beautiful Laura Hunt (Julie Lancaster) is murdered, via a shotgun blast that destroys her lovely face, Detective Mark McPherson (Grinnell Morris) is brought in to investigate. He's soon obsessed with the portrait of the victim that hangs in her apartment. It appears as if he is falling in love with the dead woman, and we seem to be in for a perverse tale of necrophilia. But then—surprise, surprise—Laura turns up, very much alive, and McPherson now must discover the identity of the murdered woman, in order to sort out the several suspects.
Laura was supposedly away in the country when the murder occurred, but she owns a shotgun that may be the murder weapon. Laura's housekeeper (Gail Johnston) may not be as loyal as she seems. Danny (Jonathan Baron), the son of the building manager, nurses a secret passion for Laura. Shady lothario Shelby (Blake Boyd) is engaged to Laura, but he was also secretly involved with the murdered woman. Building manager Mrs. Dorgan (Rhonda Lord) has her own reasons for resenting Laura. Prissy antique collector and magazine columnist Waldo Lydecker (Robert Mackenzie) is obsessed with Laura and bitterly resentful of the he-men to whom she's attracted.
Morris' detective has the right look but lacks the charisma and individuality that would make us care about him. In the title role, Lancaster is charming and credible, but there's no mystery about her, and she's just too nice to be a murder suspect. Boyd's Shelby is shifty and blustery enough to arouse distrust but not to suggest a killer. Johnston's housekeeper contributes some much-needed comedy, and Lord's Mrs. Dorgan is persuasive as a mother resentful of Laura for seducing her son away from his classical-music career. As Danny, Baron captures the boy's passionate adolescent infatuation with Laura and his fascination with 1940s jazz. But only Mackenzie, as Waldo, turns in the kind of flamboyant, baroque performance that makes the play come alive. He nimbly sketches Waldo as a finicky, possessive control freak, seething with resentment and petulant rage.
Presented by and at Theatre 40, 241 S. Moreno Drive, Beverly Hills. March 29–April 29. Thu.–Sat., 8 p.m.; Sun., 2 p.m. (310) 364-0535 or www.theatre40.org.