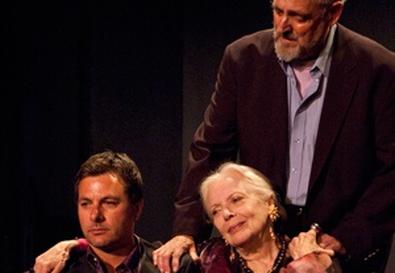 The concept of Dale Griffith Stamos' "Love Struck" play isn't anything new—an octet of one-act plays on various aspects of love. But Stamos understands the emotions and motives of her characters, whom she isn't afraid to either ridicule or empathize with. She also evinces an ear for dialogue and has keen insights into human nature. Those skills give director Maggie Grant and her cast plenty on which to hang their hats. The playlets range from lightly comedic to deeper and more penetrating, yet even the most somber vignettes are leavened with just enough humor to render them palatable and make them among the evening's most lifelike.
The show's comedies are admirably restrained, a product of Stamos' writing and Grant's direction. The most cogent of these is "The One," in which the pretty and brainy Laura (Natasha Charles Parker) receives a surprise visit from handsome and reckless Cody (Kirk Enochs), a guy she briefly dated while in high school. She has moved on, he hasn't, and he wants her back. As truths about their youthful acquaintance are revealed, "The One" turns heartfelt, leaving a bittersweet ending.
Intriguing but less satisfying are the comedies "The Session" and "Amanda Split" and the dramatic "Dirty Little Secret." "The Session" pits flaky artist wannabe Angela (Grant) against her stodgy husband, Harvey (Bob Ebinger), during their first visit to a therapist (Samm Hill, alternating with Paul Jacek and David Wells) whose wacky methods unite the couple. The fluffy, lighthearted "Amanda" involves the efforts of pretty lawyer Amanda (Molly Leland) to resist the advances of buff gardener Ethan (Ryan Cross); Julianna Robinson generates most of the laughs as the younger sister who can't believe Amanda is immune to Ethan's charms. Though as polished as the plays surrounding it, the two-hander "Dirty Little Secret" is a misfire. The story concerns the wealthy but potentially violent and emotionally stunted Nicholas (Matthew Brenher), who tries everything to escape court-ordered therapy with a woman therapist (Grant). The tense character study benefits from Brenher's portrayal of a worldly, filthy-rich SOB and Grant's countervailing work as the ultra-professional shrink determined to get through to him.
Two playlets named "Confessions" are sobering monologues about individuals seeking refuge in the privacy of their churches. Teenager Tracy (Tara Windley) has dumped a sweet, brainy guy for a stud and is guilt-ridden now that her former beau has endured a life-changing physical calamity. The story soars on its thought-provoking ideas and Windley's impassioned reading. Even more affecting is "Confessions Part II," whose focus is Jeremy (Eric Charles Jorgenson), an almost comically conflicted man who loves being gay yet expects to be "condemned to eternal damnation." The studied laugh lines of his story make the piece's dramatic coloring all the more gripping as Jeremy unfolds a personal story that must echo that of gay men everywhere.
The production's star, veteran actor Barbara Bain, engagingly pulls off two contrasting roles. "Identity" presents her as Roxanne, a senior citizen awash in Alzheimer's. When Roxanne struggles with her memory, Bain effects a foggy look that screams "lack of recognition," her personality turning ingenuously little girl–like. Husband Lawrence (a solid Peter Van Norden) is devoted to the nuances of her personality—even those that wound him—while Paul (Dave Roberts), the couple's reliable son, can feel only shock and rage when his parents drop a bomb on him.
The show closes with the dramedic "Matchmade," with Bain as Meredith, a stylish 70-something who runs a matchmaking service for those over 70. Her newest customer is Charlie (Nick Ullett, alternating with Robert Miano), who loved her 50 years ago when his best friend first dated, then married her. Now that Meredith is a widow, Charlie wants a chance to have what he never could, but skeptical Meredith throws out every roadblock she can imagine. Ullett sketches his character's refinement and an impressive persistence clothed in courtesy, and Bain responds with a portrait of a deeply loving woman who has convinced herself that love is not integral to happiness.
Lila Cannon's sparse set is dominated by Adam Hunter's large canvas depicting a red heart swimming in waves of white and lavender, and her modular design, which moves various pieces of furniture and other props on- and offstage, individualizes each playlet.
Presented by Three Rose Players and Venice Sky Productions at Beverly Hills Playhouse, 254 S. Robertson Blvd., Beverly Hills. May 11–27. Fri.–Sat., 8 p.m.; Sun., 3 and 7 p.m. (323) 960-7787 or plays411.net/lovestruck.