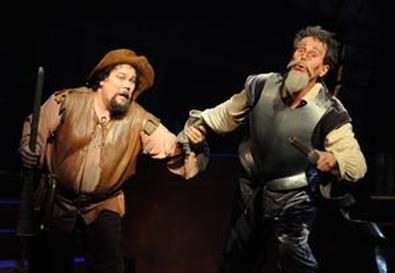 This literate musical, imaginatively adapted by book writer Dale Wasserman, composer Mitch Leigh, and lyricist Joe Darion from Miguel de Cervantes' enduringly relevant 17th-century novel "Don Quixote," remains one of the most durable Broadway hits from the 1960s. It's also among the most challenging, requiring triple-threat performers and technically demanding designs that must capture the magical lyricism of the play's flavorful show-within-a-show conceit. Director Nick DeGruccio's stirring rendition doesn't reinvent the wheel, yet he elicits remarkably fresh performances, and the overall effort radiates more vibrancy than most "La Mancha" revivals I've seen.
The production's most fortuitous creative choices come in the casting of the story's two formidable lead roles. Charismatic actor-singer Davis Gaines proves to be an ideal match for the dual role of the imprisoned Cervantes and his imagined alter ego, Alonso Quijano, a kindhearted but deranged squire who fantasizes that he is a fearless knight, Don Quixote. Mastering the humor, warmth, and poignancy of this character, as well as the physical demands of the boisterous action scenes, Gaines gives a stellar portrayal. When he takes center stage to belt out glorious numbers such as the show's signature song, "The Impossible Dream (The Quest)," and the gorgeous "Dulcinea," this actor puts an indelible stamp on one of our finest musical theater roles.
Thankfully, Davis has an equally memorable Aldonoza/Dulcinea to play against. Lesli Margherita is a powerhouse as the bedraggled but spunky kitchen wench. Alternating between a fierce growl and intonations that bespeak resignation and despair, Margherita's Aldonza is at once a perpetual victim and a gutsy survivor. She parlays the fiery lament "Aldonza" into a tour de force, but she can also be pensive (in "What Does He Want of Me?") and heartbroken (the "Impossible Dream" reprise) with equal authority. Standouts in the large ensemble are Damon Kirsche, as the Duke and the conniving Dr. Carrasco, and Richard Gould, as the Governor/Innkeeper.
Kevin Clowes' atmospheric sets are generally effective, though the use in the dungeon scenes of an elevator-like structure rather than a drawbridge is cumbersome and feels inappropriate. Steven Young's terrific lighting and Cathleen Edwards' costumes support the story's instantaneous shifts between the foreboding prison and Cervantes' flights of fancy. Matthew Smedal's musical direction beautifully serves the score, and Carlos Mendoza's choreography is graceful and thrilling. Musical Theatre West's enormously satisfying revival proves that in musical theater, dreams needn't be impossible.
Presented by Musical Theatre West at the Carpenter Performing Arts Center, 6200 E. Atherton St., Long Beach. Feb. 11–26. Thu.–Sat., 8 p.m.; Sat. and Sun., 2 p.m. (Additional performance Sun., Feb. 19, 7 p.m.) (562) 856-1999 ext. 4 or www.musical.org.