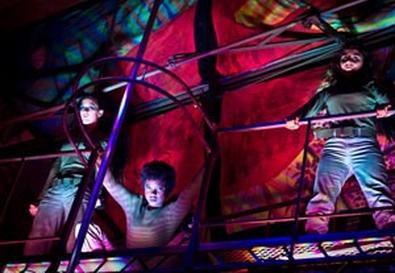 If there are indeed angels in America, playwright José Rivera apparently envisions them differently from Tony Kushner's ceiling-crashing harbinger of political and personal transformation. Rivera's divine beings are soldiers fighting off apocalyptic evils. Terror and pandemonium rule in the Manhattan depicted here. The urban mecca has turned into a cesspool of totalitarian oppression and environmental decay. Mixing absurdist conventions with magical realism, Rivera's 1993 play makes for a viscerally vibrant experience. In this L.A.-premiere staging, director Don K. Williams marshals his forcesÑa splendid ensemble cast and an inspired design teamÑto create haunting imagery and chilling dramatic encounters.
Stronger in creating an intriguing atmosphere and moments of soaring lyricism than in spinning a fully cohesive tale, Rivera's script kicks into gear by introducing Marisol Perez (a vigorous Carolina Castro), a 26-year-old Latina copywriter for a publishing house. She is attacked on the subway by a smarmy vagrant (Dan Evans) swinging a golf club but is rescued from this attempted assault. Marisol is subsequently visited by a gutsy guardian angel (the superb Alex Marshall-Brown, in a small but colorful role), who informs Marisol that she might not be able to protect her because the angel has joined other rebels in a battle against a senile god. Fires and pollution are ravaging the city, the food and water supplies are contaminated, and violence and crime rule. Among the deranged characters are a vengeful gun-toting woman in furs (Jennifer Sorenson), who was tortured by police because her credit card went over its limit, and a homeless burn victim in a wheelchair (Michael Allen) looking for his lost skin. Sorenson and Allen offer deliciously creepy portrayals, matching the overall excellence of the ensemble cast.
Ensuring an enthralling ambience are Allen's marvelously detailed and gritty set, Johnny Patrick Yoder's masterful array of lighting effects, Melody Brocious' imaginative costumes, and unnerving sound effects by Ben Rathbun and Ben Campbell. Gustavo Jauregui's graffiti design creates the ideal centerpiece for this Orwellian nightmare.
Dark humor punctuates the gloom-and-doom narrative, though Rivera clearly wants to make sobering points about social injustices, ecological damage, and abusive governmental policies alongside loftier ruminations on spirituality and moral malaise in the urban jungle. Though the hyperactive proceedings come across as more of a kicky carnival thrill ride than an incisive cautionary tale, the production is consistently fascinating, and the game cast goes the full mile in supporting the memorable effort.
Presented by the Stella Adler Studio of New York/Art of Acting Studio Los Angeles and the Harold Clurman Laboratory Theatre Company at the Art of Acting Studio Theater, 1017 N. Orange Dr., L.A. Feb. 3–March 10. Fri. and Sat., 8 p.m.; Sun., 3 p.m. (800) 838-3006 or www.brownpapertickets.com.