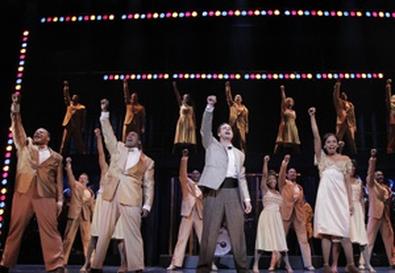 Most people think of Elvis as the guy responsible for rock 'n' roll, but before him there was the king of rockabilly, Ronnie Hawkins, and way before him the groundbreaking musicians who inhabited Beale Street, the setting for David Bryan and Joe DiPietro's multiple Tony Award–winning musical "Memphis." As early as 1900, Beale Street was the place where the best black bluesmen gathered and helped develop a style that became known as Memphis blues. If Elvis as a kid had never become obsessed with Mississippi Slim's radio show on his favorite "colored" station in his birthplace of Tupelo, he might still be ushering at Loew's State Theatre or toiling on the line at Precision Tool—and we might still be listening to Patti Page.
There's a rich American heritage in the advent of this music, as well as a haunting shame associated with it. Our country's racist past is inexorably linked to this period in musical history, and Bryan and DiPietro bring it to life for a generation not around to experience it. Huey Calhoun (Bryan Fenkart) is a white resident of the heavily segregated Memphis of the mid-'50s who wanders to the off-limits downtown area to hear the music he loves. Huey boldly infiltrates a blues club called Delray's, where the sounds of rock are beginning to evolve as an innovative homage to earlier Beale Street pioneers such as W.C. Handy, Louis Armstrong, and Muddy Waters.
Like Elvis and other tradition-eschewing white music lovers of the time, Calhoun hears the passion and electricity of this new sound and goes on a personal mission to bring it out of the ghetto and introduce it to polite society. He worms his way into a Memphis radio station and quickly becomes the city's top deejay by playing what the general populace has dubbed "race music." Calhoun's success, however, doesn't come without problems, especially when he falls for Felicia Farrell (Felicia Boswell), the talented black singer who headlines Delray's.
There is an inherent predictability in DiPietro's book and his and Bryan's lyrics, which tell an all-too-familiar tale that most of us already know. Still, the script refuses to celebrate our not-that-distant inequitable past and doesn't pander with a typical musical theater happy ending. Bryan's Tony-honored score is a revelation, a wonderful tribute to music that changed our world. Director Christopher Ashley seamlessly stages the large cast on David Gallo's complicated multilevel set, and Sergio Trujillo's aggressively energetic choreography is a major highlight.
The energetic ensemble is consistently enthusiastic, especially for a national tour that could have frayed around the edges. Boswell and Fenkart start a little high but grow on you, and they have fine support from Quentin Earl Darrington, as Felicia's wary brother Delray; Rhett George, as the mute bartender Gator, silenced since childhood after watching the lynching of his father; and the oversize Will Mann, as Bobby, who proves with easy cartwheels and ridiculously athletic dance moves that you don't have to be Cathy Rigby to defy gravity. As Huey's mother, Gladys, Julie Johnson brings down the house twice, especially in the showstopping "Change Don't Come Easy."
There is a conspicuously formulaic gestalt to the production that often supersedes the grit of the story line and keeps reminding us that this is a big Broadway show for which commercial success is of the utmost importance. However, there's also history and heart, as well as genuine exhilaration in the performances and Bryan's score, attributes that keep "Memphis" from drowning in Vegas slickness.
Presented by Junkyard Dog Productions, Barbara and Buddy Freitag, and Marlene and Kenny Alhadeff, with Latitude Link, Jim and Susan Blair, Demos Bizar Entertainment, Land Line Productions, Richard Winkler, Alex and Katya Lukianov, David Copley, Dancap Productions, 2 Guys Productions, Patty Baker, and Dan Frishwasser, in association with Eric and Marsi Gardiner, Linda and Bill Potter, Broadway Across America, Memphis Orpheum Group, Vijay and Sita Vashee, Apples and Oranges Productions, Brian and Betty Dovey, John Yonover and Ron Yonover, Loraine Boyle/Chase Mishkin, Remmel T. Dickinson/Shadowcatcher Entertainment, and Jocko Productions/Scott and Kayla Union, at the Pantages Theatre, 6233 Hollywood Blvd., L.A. July 31–Aug. 12. Tue.–Fri., 8 p.m.; Sat., 2 and 8 p.m.; Sun., 1and 6:30 p.m. (800) 982-2787 or www.broadwayla.org. Casting by Telsey + Company/Rachel Hoffman.