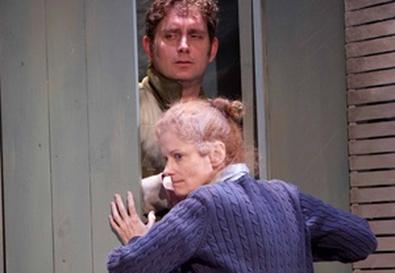 Irish playwright Enda Walsh's one-act drama is very Irish, very surreal, and very bleak—and finally rather mysterious.
Three sisters live in a house in an isolated fishing village on the west coast of Ireland. Breda (Lisa Pelikan) and Clara (Casey Kramer) are middle-aged; the youngest, Ada (Betsy Zajko), is in her 20s. Ada has a job as a bookkeeper in the local fish-packing plant, but Breda and Clara never go out. The only outsider who ever comes in is Patsy (Tim Cummings), a local fishmonger who's fascinated by the sisters and continually brings them fish as a pretext to visit (three times in the course of an afternoon). He longs to be invited to join them, and regales them with local gossip, but to no avail.
The sisters send Patsy on his way and indulge in a curious ritual in which they dress in the clothes of their youth and reminisce about their younger days, when they were romantically obsessed with the Roller Royle, the rocker at the Electric Ballroom. Clara had no chance with him, while "bad girl Breda" fell in love with him. But their affair remained unconsummated when he took off after another girl. Eventually Breda decides that Patsy could be a suitor for Ada. She orders him to remove his clothes, Clara scrubs him down, and they dress him in a shiny Roller Royle suit. Inevitably the results are not what they hoped for.
Walsh's play is an elegiac tale of sexual frustration and blighted lives, relieved only by the lyrical, eloquent language in the prose arias and the rich local color. Director John Perrin Flynn has cast the play beautifully; all four performances are terrific. Pelikan's Breda is a domineering authoritarian, but she reveals hints of madness and glimmerings of the lusty girl she once was. Kramer's Clara is more basic, and with her losses long behind her, she asks only for tea and a bit of Breda's sponge cake. Zajko's Ada is still a young woman with hopes of escape, however unlikely. Cummings' Patsy is a volatile young man, seething so much with frustrated desire that he occasionally breaks out into moments of violence—and even bursts into a tune once sung by the Roller Royle.
Designer Stephanie Kerley Schwartz provides the kitchen, its cupboards filled with nothing but digestive biscuits, where the action—and inaction—plays itself out.
Presented by Rogue Machine at Theatre/Theater, 5041 Pico Blvd., L.A., June 16–July 29. Sat., 5 p.m.; Sun., 7 p.m.; Mon., 8 p.m. (No performances Mon., June 25, or Mon., July 23.) (855) 585-5185 or www.roguemachinetheatre.com.