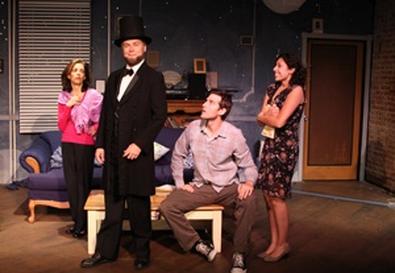 Who knew Lincoln was such a cool dude? In her quirky new comedy, playwright Claudia Restrepo uses a smart blend of heart and history to look at how we heal, and hide, from life's tragedies. Sylvia (Restrepo) is a young woman with a passion for the past who's having a hard time after her father's not-so-recent death. Her self-involved mom (Lisa Goodman) doesn't get it, so it's a good thing Sylvia's got a solid BFF on hand: Honest Abe (Kipp Moorman). But maybe she's ready for a new man in her life, an author (Jonathan Chase) who knows Lincoln almost as well as she does.
Director Kaja Martin does a great job of guiding the terrific cast along the tightrope of the surreal; her shrewd staging steers clear of dangerous pitfalls. While Restrepo's writing could be more focused, on the whole it's an impressive package.
Presented by Theater Hound Productions as part of the Hollywood Fringe Festival at Lounge Theatres, 6201 Santa Monica Blvd., Hollywood. June 14–23. Remaining performances: Sat., June 16, 11 p.m.; Thu., June 21, 8 p.m.; Fri., June 22, 11 p.m.; Sat., June 23, 11 p.m. (323) 455-4585 or www.hollywoodfringe.org.