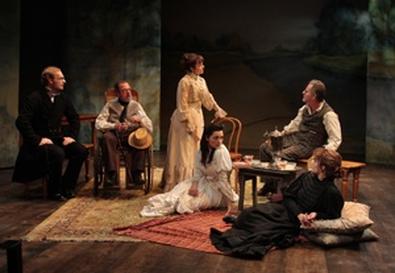 The classic plays of 19th-century Russian writer Anton Chekhov seamlessly combine wry character humor and ruefulness, imparting a remarkable sense of verisimilitude. Chekhov astutely captures the vulnerabilities and strengths of people pursuing their dreams while experiencing life's inevitable highs and lows. His works are notable for naturalistic rhythms and rich subtext and embrace the lyrical beauty of metaphorical motifs. Antaeus Company's account of "The Seagull" (written in 1895), in a translation by Paul Schmidt, is incisively interpreted by director Andrew J. Traister and an accomplished ensemble in a stylish production brimming with intelligence and resonance.
Except for Brian Abraham in the small role of Yakov, a servant, each part is double cast. The opening two performances featured the separate casts, except for the role of flamboyant stage diva Madame Arkadina. Laura Wernette took on the character at both reviewed performances, due to the illness of her counterpart, Gigi Bermingham. It's the play's most colorful role, a self-centered drama queen. Wernette is superb, bringing to mind Desiree Armfeldt in "A Little Night Music." Evoking laughs with Arkadina's ridiculous demeanor, Wernette is also spot-on in eliciting scorn for this woman's startling insensitivity to her son, the aspiring playwright Treplev (Antonio Jaramillo and Joe Delafield).
There are differences in interpretation between some of the double-cast actors, though Traister's overall approach feels consistent. He maintains an ideal balance in portraying the characters' endearing qualities and foibles while illuminating universal themes of unrequited love, artistic ambition, self-deception, and coping with regrets. Jaramillo convincingly depicts the uptight nature of a strung-out bohemian, one who is unable to win the love of neighboring Nina (Abby Wilde and Jules Wilcox) or to earn respect for his avant-garde works. Delafield projects more vulnerability and volatility, making Treplev's initial suicide attempt—and ultimate suicide—more believable. As Arkadina's aging and feeble brother Sorin, Micheal McShane and Gregory Itzin fashion different though equally valid takes on the character. McShane goes for a somewhat jolly and doddering codger, while Itzin comes across as more dignified and pensive, albeit eccentric. Each interpretation supports a final poignancy.
As Nina, Wilde and Wilcox do fine work, though Wilde is more successful at showing the restless nature of a young woman who romantically pursues the novelist Trigorin (Adrian LaTourelle and Bo Foxworth in solid portrayals), Arkadina's paramour. Offering excellent support in other roles are John Achorn and Armin Shimerman as callous landowner Shamrayev; Reba Waters and Dawn Didawick as his unhappy wife, Paulina; Avery Clyde and Joanna Strapp as lovestruck Masha, pining for the emotionally adrift Treplev; James Sutorius and Kurtwood Smith as the doctor, Dorn; and Bill Brochtrup and Patrick Wenk-Wolff as the schoolteacher Medvedenko.
A ravishing production design (Lechetti Design's tasteful minimalist set, Jeremy Pivnick's lighting, and A. Jeffrey Schoenberg's costumes) credibly conjures the late-19th-century setting, while the performances evoke a sense of timelessness in communicating age-old truths. Antaeus' shimmering rendition of this challenging and enduring work is among the company's finer efforts to date.
Presented by the Antaeus Company at Deaf West Theatre, 5112 Lankershim Blvd., North Hollywood. March 1–April 15. Thu.–Sat., 8 p.m.; Sun., 2 p.m. (818) 506-1983 or www.antaeus.org.