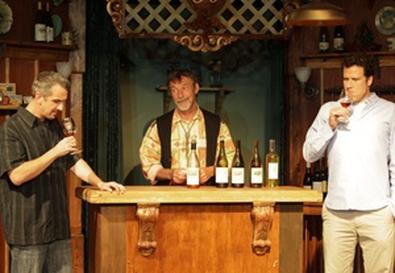 Let's talk creative journey: the path of Rex Pickett's "Sideways The Play," which was based on his novel, "Sideways," from his earlier screenplay of the same name, which was not the screenplay for Alexander Payne's film "Sideways," although that was based on Pickett's novel. Yeah, it's an appropriately circuitous—read "Hollywood"—route, and it's interesting what holds up. In this intimate world premiere, we have a fun time swilling with the errant boys in wine country, but we don't get the layers of flavor or complexity we were looking for.

The Ruskin Group Theatre's cozy production features John Colella and Jonathan Bray as two middle-aged pals who travel to California's Central Coast wine country for some bachelors' bonding. Pickett's characters are Miles (Colella), a dour, down-on-himself writer who's more comfortable with words than with people, and the crowing, full-of-himself Jack (Bray), a director of bad TV who's about to be hitched. The setup is great for men behaving badly, and they do: Jack hooks up with wine-tasting babe Terra (Cloe Kromwell) to "get his nut" while he's still single; Miles is pushed into pursuing Maya (Julia McIlvaine), a waitress and wine aficionado he's had a crush on for a while. Here the delightful Bray is almost dopey enough to make us forgive him his grand indiscretions, and Kromwell is a spirited match. Miles is a trickier character; Colella has a difficult time slogging through the writerly language and getting us to care about him, or understand why Maya (McIlvaine is a kind of gentle goddess) wants anything to do with him.

Amelia Mulkey directs the hell out of this romp through tasting rooms and hotel rooms and hot tubs and familiar area spots. Her smart staging and charming, choreographed set changes add a needed theatrical element. Kudos to set designer CJ Strawn for creating a wonderfully inviting world. Much of Pickett's dialogue is clever, even if it travels the same ground over and over; his love letters to wine—and playful portraits of the wine obsessed—are a treat. In the end, however, it's not quite enough to make the trek worth it.

Presented by and at the Ruskin Group Theatre, 3000 Airport Ave., Santa Monica. May 18–Oct. 28. Fri. and Sat., 8 p.m.; Sun., 2 p.m. (310) 397-3244 or www.ruskingrouptheatre.com.