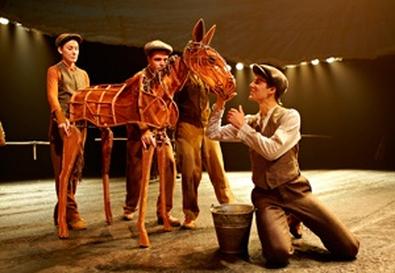 National Theatre of Great Britain first staged Nick Stafford's adaptation of Michael Morpurgo's 1982 novel "War Horse" in 2007. Four years later, its Broadway staging won five Tony Awards, including best play. Seeing the U.S. touring edition in its Los Angeles debut at the Ahmanson Theatre, the acclaim is easy to justify. The tale of an unshakable bond between a British boy named Albert and his horse, Joey, during World War I is a grandly theatrical, warmly human fable. Through its elaborate production design, full-size horse puppets, and stunning visual and technical effects, "War Horse" is both spectacle and a profound meditation on the value of all life, human and otherwise.
Rae Smith's sets, costumes, and drawings, Paule Constable and Karen Spahn's lighting, Christopher Shutt and John Owens' sound, and 59 Productions' animation and projections combine to create not just potent visuals but a powerful, visceral effect. Wizardly puppetry delivers Joey, a majestic, high-spirited, auburn-colored steed from being simply a metal-and-wood framework into something that's astonishingly lifelike, and with that comes the "performance" of Christopher Mai, Derek Stratton, and Rob Laqui, with two men operating the horse's front and rear halves and the third working his head while providing his "voice." The result is a living, breathing creature with all the mannerisms of a horse, from head tosses and tail flips to rearing up on two legs when agitated. Joey develops a personality as distinctive as any actor could: intelligent, affectionate, and with the heart of a champion.
The same can be said for Topthorn, Joey's noble, black-colored counterpart (operated and acted by Jon Hoche, Danny Beiruti, and Aaron Haskell). These magnificent equines are sturdy enough to be "ridden" by Albert and others, completing the illusion fashioned by Handspring Puppet Company's Adrian Kohler and Basil Jones, who designed, fabricated, and directed the horses, and Toby Sedgwick and Adrienne Kapstein, who direct and choreograph their movement. Director Bijan Sheibani's staging, based on the original by Marianne Elliott and Tom Morris, is in constant flux, often with bits of scenes overlapping one another. The show's remarkably fluid visuals dominate, including a choppy nighttime crossing of the English Channel and a spectacular tank attack featuring a massive, primitive-looking treaded machine that rolls across the stage.
More predictable are the story's characters and themes. War is uncertain, random, and always deadly. Fate constantly intervenes in our lives, and it can be cruel or kind. The story's horse lovers are Albert (Andrew Veenstra), whose father buys Joey at an auction; Lieutenant James Nicholls (Jason Loughlin), the army officer to whom Joey is conscripted once England enters the war; and Captain Friedrich Muller (Andrew May), a German officer who lavishes Joey with affection. Those who flog Joey, Topthorn, and other horses and work them nearly to death include Albert's ne'er-do-well alcoholic father, Ted (a pugnacious Todd Cerveris); the bullying Captain Charles Stewart (Grayson DeJesus), who takes over when Nicholls is killed in battle; and the bombastic, blustery Sergeant Thunder (Brian Keane).
Veenstra's Albert is soft-spoken and earnest but also bright and almost unrealistically optimistic. As fiercely protective of Joey as Albert is May's Muller, a portrayal that counters the stereotypical image of an inhumane German military. As Albert's mother, Rose, Angela Reed is harshly pragmatic yet unfailingly loving. Chad Jennings, Jason Alan Carvell, Michael Wyatt Cox, and others do yeoman's work in smaller roles. Onstage vocalist John Milosich and accordionist Nathan Koci function as a sort of musical Greek chorus, furnishing lyrical commentary for a basic human-animal love story so tumultuous that the soothing effect of music becomes a most welcome element.
Presented by Center Theatre Group, Bob Boyett, National Theatre of Great Britain, Ostar Productions, Ken Gentry, Chris Harper, Tim Levy, Broadway Across America, Roger Berlind, Roy Furman, Richard Willis, Daryl Roth, Debbie Bisno, Jane Bergère, Remmel T. Dickinson, Dede Harris, Stewart F. Lane/Bonnie Comley, Thomas L. Miller, Carl Moellenberg, Raise the Roof, Shorenstein-Hays Nederlander Theatre, and Douglas G. Smith, in association with Handspring Puppet Company, at the Ahmanson Theatre, 135 N. Grand Ave., L.A. June 29–July 29. Schedule varies. (213) 972-4400 or www.centertheatregroup.org. Casting by Daniel Swee.