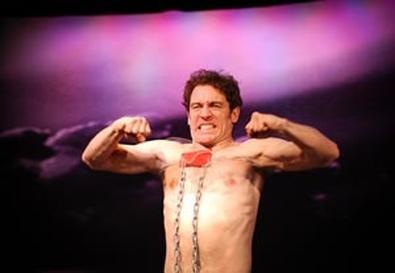 A Spanish-language stage adaptation of the Oscar-winning 1954 Italian film of the same title, "La Strada" is an enchanting, cunningly constructed production. Its profundity sneaks up on you as the show gradually and organically evolves from a fanciful solo clown routine through scenes of metaphorical comedy to become a full-fledged, heart-rending drama that explores such weighty issues as love, loyalty, brutality, and the psychology of domestic abuse.

Adapted by Gerard Vázquez from the screenplay by Federico Fellini, Tullio Pinelli, and Ennio Flaiano and presented with English supertitles, the production (a return engagement) represents the inaugural project of a new New York–based Spanish theater company that is somewhat confusingly also named La Strada. While the show is directed with clever panache by René Buch and Jorge Merced, the company is under the artistic direction of Luis Carlos de La Lombana, who does double duty, as he also plays the leading male role of Zampanó.

Though La Lombana delivers a suitably frightening portrayal of the beastly strongman who abuses his loyal assistant, Gelsomina, the acting honors go to Israel Ruiz, who plays two contrasting roles: an irritating tightrope walker who takes an interest in Gelsomina and instigates Zampanó's wrath and an endearing clown who opens the show with his tickling interactions with a spot of light, trying to feel it, smell it, taste it, listen to it, capture it, and dialogue with it before mustering the courage to venture inside it.

As the sadly naive Gelsomina (the role played on screen with magical pathos by Fellini's famous muse, Giulietta Masina), the Argentinean actor Nanda Abella lacks nuance but wins us over with her simple innocence and gamine beauty. She looks like a cross between Audrey Hepburn and Leslie Caron. Also integral to the production's bewitching charm are the comedic talents of María Peyramaure and Winston Estevez, as well as the eloquent music played by violinist Stephanie Davis, trumpeter Jennifer Harder, and the show's host, Adela Maria Bolet, on tambourine, with Ruiz sometimes joining in on kazoo.

Can't quite imagine how that combination of instruments makes music of any eloquence? Well then, you'll just have to go see the show to find out. You'll be happy you did.

Presented by La Strada Company at TBG Theater, 312 W. 36th St., 3rd floor, NYC. Oct. 30–Dec. 4. Tue. and Wed., 7 p.m.; Thu.–Sat.., 8 p.m.; Sat. and Sun., 3 p.m. (No performance Thu., Nov. 4.) (212) 868-4444 or www.smarttix.com.